Archive for
October 2, 2010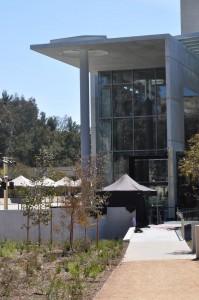 On Thursday I attended the press preview of Stage One of the redevelopment of the National Gallery of Australia, in Canberra. These are the photographs I took on the day.
The first picture (left) depicts the new front entrance to the gallery. You pass through two sets of sliding glass doors and immediately find yourself inside a vast foyer, filled with light (below).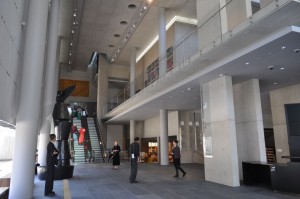 The gallery's famous Aboriginal Memorial is immediately to your left in a kind of circular well in which it receives abundant natural light and is shown to great advantage. Margaret Olley told me on the day that she had never seen the memorial (below left) "look so spiritual". The new shop (below right) and cloak room are also in the foyer.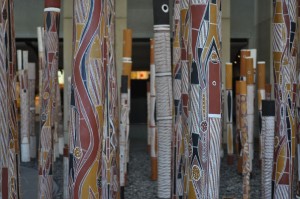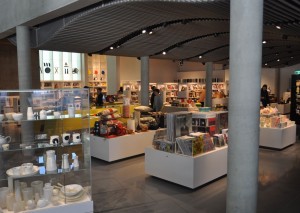 When you are standing in the new foyer, you will see a set of escalators right in front of you. Take the escalator up, and you are in the new indigenous galleries.
I think you will be able to see from the following photographs that the new galleries are a wonderful achievement. Most of them are lit with natural light, while those which contain drawings and other fragile materials have a special feature – they are lit artificially, but the lights are triggered only when someone enters the room. From a conservation and preservation point of view, this is an innovative and impressive idea.
National Gallery director Ron Radford gave a short speech in the foyer, welcoming particularly the 40 indigenous artists who had travelled from all over the country to be at the ceremony.
We went up to the new galleries, where artist Gali Yalkayirriwuy Gurruwirri performed a ceremonial dance (below left and right).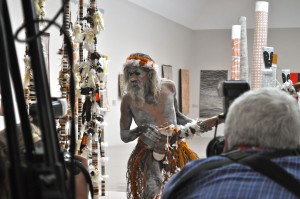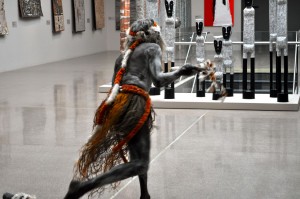 Among those watching the performance was the Maningrida bark master, John Mawurndjul (below).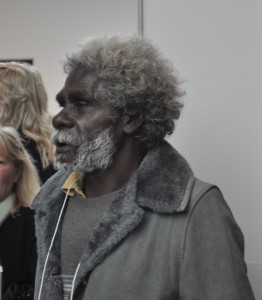 Mawurndjul and fellow Maningrida artist Owen Yalandja (below, with one of his works) were to return to their home the day after the opening, to attend an important men's ceremony.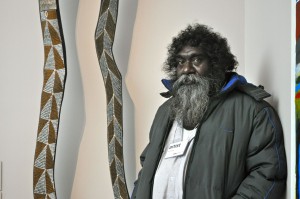 Here are some more pictures, showing the inside of the new indigenous galleries.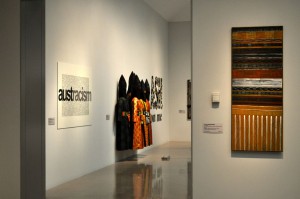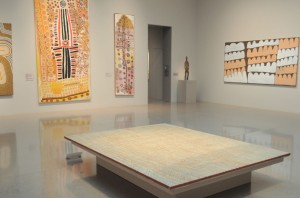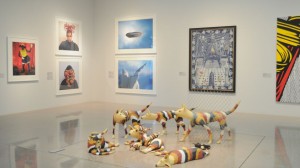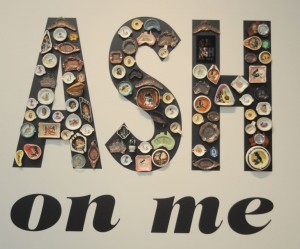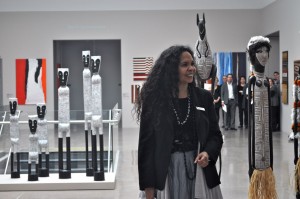 Francesca Cubillo (left), senior curator of Aboriginal and Torres Strait Islander art at the National Gallery, warmly thanked the artists for attending.
And finally, on the way out of the building, I met Thanakupi, the artist from Weipa, and spoke to her about her sculpture which was commissioned for the extensions to the building. Titled Eran, meaning "river", the work depicts animals in the creation stories of the tribes along Weipa's two rivers – the Evath eran and N'Gath eran. In English, these are the Mission River and the Hay River.
This is Thanakupi's statement: "The sphere is circle. It is what I centred on in making pots. When looking at the world, it's unity and the world. Taking that sphere and the designs, that is my art. Fire, earth, mother, unity. Designs on the ground, now on the bauxite, from clay to aluminium."
Here is a photograph of Thanakupi's work, Eran.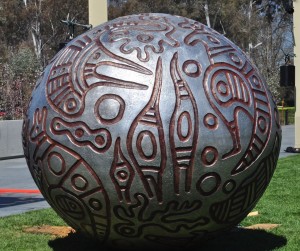 Elizabeth Fortescue, October 2, 2010