Archive for
August, 2012
I took these pictures at the installation of White Rabbit Gallery's new exhibition, Double Take, which opens tonight.
I was lucky enough to interview the Taiwanese artist Tu Wei-cheng about his work Happy Valentine's Day, which is pictured below. My story on this artist appeared in the Daily Telegraph.
Some of the pictures are of Dust, an installation by artist Cong Lingqui who meticulously created tiny repilcas of 210 everyday objects which the installers were suspending from the ceiling while I was there.
Here are my pictures.
Elizabeth Fortescue, August 31, 2012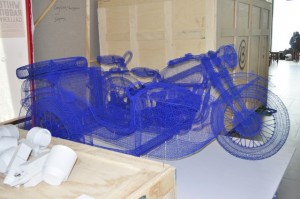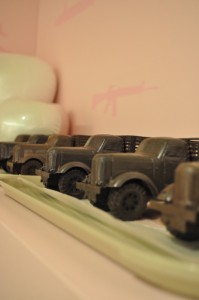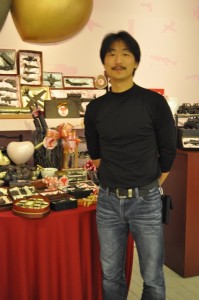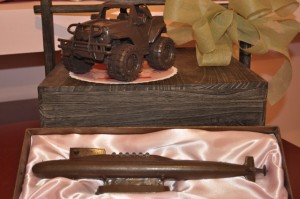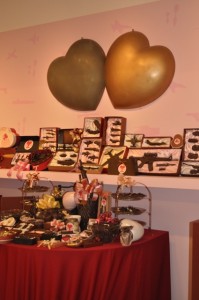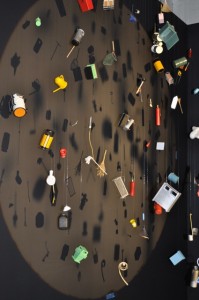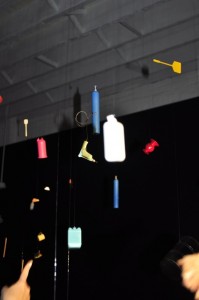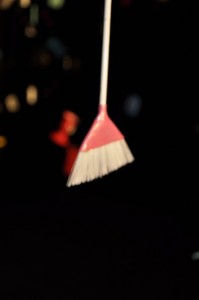 I'd like to report on Adam Cullen's funeral, as well as the last time I saw him alive, before the memories start to fade inevitably from my mind.
The funeral was held at 2pm on Friday August 3, 2012, at a modest suburban church call St Rose, in Collaroy Plateau on Sydney's northern beaches. Right opposite the church was Wheeler Heights Primary School, where Cullen had attended school as a child. When I arrived at the church, pop music was pumping out into the playground and dozens of kids were practising some kind of dance routine.
As I stood opposite the church, I observed Cullen's father, Kevin, arrive. I wondered how he must feel, about to say a last goodbye to his child. I noticed several motherly-looking women heading for the church hall, bearing plates of food covered with tea-towels. It turned out they were taking the food to the church hall, where we would gather later and eat sausage rolls and lovely little sandwiches and cakes. There was a smattering of younger people at the funeral, but the congregation seemed mainly to be late middle-aged.  They looked like nice, hard-working folk, probably the sort that surrounded Cullen as he grew up on the northern beaches and went to school at Cromer High.
At 2pm I crossed the road and entered the church, and sat at the side from where I saw Adam's simple wooden coffin. It was heaped high with a beautiful display of native flowers. Next to the coffin was one of Cullen's artworks. It showed a dog with a big, dopey grin, tongue lolling out, eyes swivelled to one side. Another nice touch was the order of service, all done in bright pink and featuring some of Cullen's paintings.
The eulogy was given by Charles Waterstreet, the well-known Sydney barrister who writes for the Sunday Telegraph. Cullen had once told me it was Waterstreet who kept him out of jail. I thought he was exaggerating but, as I was to find out while covering Cullen's court appearance on firearms and drink-driving charges, it was no exaggeration at all.
A transcript of Waterstreet's eulogy is here.
The service was a full Mass. It was moving without being sentimental, and it was hard to believe that one of the Sydney art world's great rebels was being farewelled amid such middle-suburban propriety and quiet goodwill.
Some of Cullen's portrait subjects were in attendance. There was actor David Wenham, whose portrait in Dulux house paints won Cullen the 2000 Archibald Prize. Comedian Mikey Robins was there, overcome with grief. Artists who attended the funeral included Peter Kingston who told me he had come to pay his respects although he had never met Cullen. Kingston said he had heard of Cullen's precarious state of health and had written him a letter expressing his admiration for Cullen's work. Kingston had posted the letter on the Friday, but Cullen would not have received it. He died that weekend. I wondered who ended up opening that letter, and what emotions would have occupied them as they read Kingston's no doubt very tender and honest words. Nigel Milsom, who painted Cullen for the Archibald, was there. So was another Archibald regular, Rodney Pople. Cullen's dealer, Michael Reid, was also there. Artist Adam James K., who painted Cullen's portrait and was a very close friend, was there.
Andre de Borde was there, also grief-stricken. De Borde had co-curated Cullen's extraordinary exhibition in September 2011 at Chalk Horse Gallery in Surry Hills, called Independent Judiciary (Mother's Milk). And art gallery owner Jason Martin, possibly Cullen's oldest friend, was there. He and Cullen had met on the day they were both brought with their mothers to start school at Wheeler Heights Primary School. Neither of them had wanted to go to school, and they became friends on that very first day. Martin told me his mother has a very clear memory of that first school day. Adam Cullen's friendship with Jason Martin endured right to the end. In the days before Cullen's death, Martin had stayed with him at Wentworth Falls and, like boys again, they had watched movies on TV. Being There with Peter Sellars, and "a really trashy film about a snow monster", Martin said.
Martin said Cullen had lived how he had wanted to live, and "it was precarious". "He had more than nine lives, I can tell you that," he told me in the church hall after the service. "And he kept his sense of humour right up till the end."
One of the most touching things about the funeral was the tribute by the children of Wheeler Heights Primary. The kids had always wanted Cullen to visit their school and talk to them about his art, but it was not to be. After his death, they produced an entire wall full of their drawings based on his Ned Kelly pictures. They made a perfect backdrop at the church hall where the army of nice ladies offered platters laden with tasty food.
And now Cullen is gone, aged just 46. It is believed his ashes will be scattered in the surf at Collaroy Beach where his mother Carmel's ashes were scattered two years ago.
Addendum: The exhibition Independent Judiciary (Mother's Milk), curated by Andre de Borde and Jasper Knight, was a departure for Cullen. He had created a series of paintings made in a highly unusual way. Cullen claimed he was the first Australian artist to do it. He had gone to the country, and set up his canvases behind spray cans of paint. He shot bullets through the spray cans, and they spun like Catherine wheels, spitting paint in all directions including at the canvas. Of course the bullets went through the canvases as well, and became part of the works. I had gone to Cullen's Blue Mountains studio to interview him about these works, and my story was used in the Daily Telegraph.
The next time I saw the artist, on November 10, 2011, it was in court number 4.5 in the Downing Centre. I was there to report on the case for the Daily Telegraph. Immediately after Cullen had made the artworks with bullets and spraycans, he'd been pulled over by the police and charges were laid relating to drink-driving at an alcohol concentration of 0.132, and the cache of weapons that was in his car, some of which were unlawfully in his possession.
For his day in court, Cullen looked dapper in a western-style outfit with a cloth cap, and shoes that were splashed with paint. One of his hands was in some kind of support, as though he had injured himself.
Looking around the waiting area outside the court, he noticed that there was "carpet on the walls". I remarked to Cullen that the carpet was probably to absorb the noise. He replied that it was "probably to absorb the anxiety". He was nervous, and understandably so. Depending on the outcome of the case, he could have been about to go to jail.
Cullen arrived outside the court alone, but he was soon joined by a small group of supporters including his cousin, the photographer Murray Vanderveer, and the artist Jasper Knight.
Inside the court, he held his cap in both hands, looking for all the world like Toad of Toad Hall promising the magistrate he would no longer roar around in his little yellow car. Waterstreet said in court that Cullen's pancreas had been removed and if he was going to drink, it would be at his own peril. "He drinks when he's nervous, when he's expressing himself artistically, but his pancreas can't take it," Waterstreet said. Cullen was on 11 medications a day and had been diagnosed as bipolar and had diabetes, Waterstreet said.
The magistrate told Cullen he was clearly an intelligent and artistic man, but he had to take his drinking in hand. "There are things that are causing you pain mentally that you haven't dealt with and I think you need to deal with them if you have any hope for success in future, otherwise you will self-medicate and you are human and a lot of people do that," she told him. "You will have to develop mental hardness to ensure it doesn't happen." The magistrate said Cullen's drink driving warranted consideration of a jail sentence "but I don't tink placing you in a custodial setting would be advantageous to you or the community because you won't get the assistance you require in a custodial setting."
Having explained her decision to Cullen that she would give him a 10-month suspended sentence if he completed a medical treatment plan, and that he was banned from driving for five years back-dated to the time of his arrest in July 2011, the magistrate wished Cullen success in his endeavours, particularly in terms of his "rehabilitation efforts".
"Thank you so much," Cullen said, standing before her. We all left the courtroom.
In the waiting area just outside the court, Cullen hugged his weeping father. "Okay, Pop," Cullen said. To the media he said: "I have two cars so other people will drive me around, which will be rather leisurely."
"It's an excellent outcome," Cullen said. "I'm just happy I can go back to work and not be worried. It's [been] like a really, really bad dream."
Elizabeth Fortescue, August 11, 2012