Archive for
December, 2010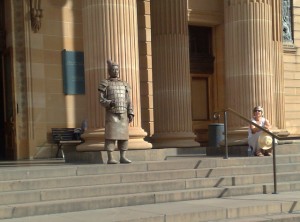 It looked as though one of China's famed Terracotta Warriors had escaped from the Art Gallery of NSW yesterday. It was actually an actor who travels the world with China's national treasures. His job is apparently to wander whichever city is hosting an exhibition of the Warriors, and entice people to visit the show.
This week I noticed him on the front steps of the Art Gallery of NSW, where the exhibition The First Emperor: China's Entombed Warriors is on until March 13, 2011.
It's a fabulous exhibition, whose centrepiece is of course the gallery room in which a small but powerful selection of the warriors, and two of their beautiful horses, have been placed.
Here are some good links for information about these extraordinary archaeological artefacts:
UNESCO material on the Terracotta Warriors
The Warriors on the AGNSW website
Info on the Discovery Channel site
Terracotta Warriors and Horses Museum
By the way, the errant Warrior didn't stay still for long. He was soon playing to an audience of giggling tourists.