Archive for
April, 2013
Artwriter was sad to learn of the recent death by snake-bite of Smudge, the little terrier which featured as one of the psychological trappings in Tim Storrier's Archibald Prize-winning self portrait from 2012. The painting is titled The histrionic wayfarer (after Bosch).
Smudge was much loved by Storrier, who appreciated the dog's lack of critical opinion in relation to his master's work.
The dog accompanied Storrier faithfully in the studio, and was even allowed inside the Art Gallery of NSW for the gala announcement of the Archibald Prize when Storrier won.
According to Storrier's wife Janet, it wasn't the first time Smudge had been bitten by a snake. This time, it was fatal.
Knowing how much her husband would miss the dog, Janet had the animal stuffed. Janet sent me this picture of Smudge, who looks just as she did at the Archibald when she trotted nonchalantly into the AGNSW on the end of a horse's lead-rein.
"Yes, it was so sad poor Smudge got bitten by a snake again and died," Janet wrote to me.
"And photographed here (see below) with her is Trigger, Tim's current companion who has had two snake bites this year, 10 days apart, which cost a fortune at the Bathurst vet who loves us!"
Here is Trigger, circling Smudge.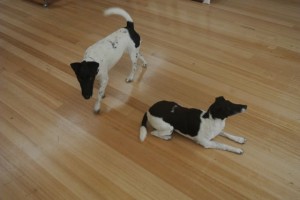 And here's another one. Judging by Trigger's tail, he's trying to make friends with Smudge.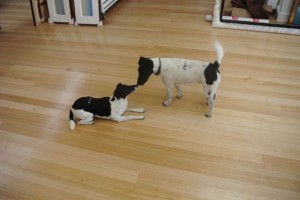 Here is Smudge in pride of place in her master's studio: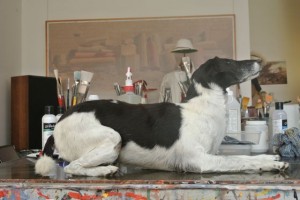 And, finally, here is the painting in which Smudge appeared: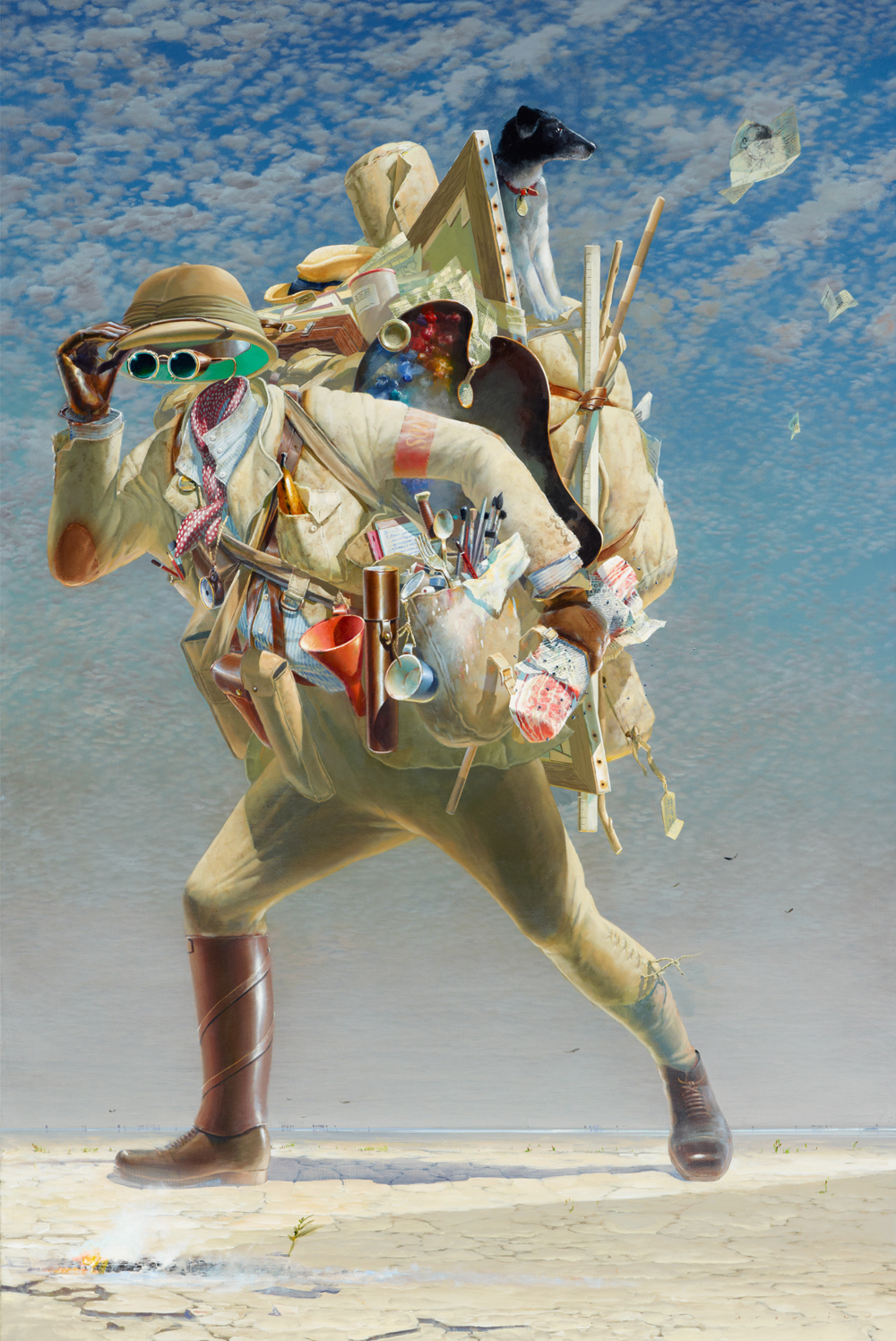 Hard-core dog lovers can read my original account of Smudge's big day out at the Archibald in an earlier post on this website.
Elizabeth Fortescue, April 29, 2013
Last year I asked the wonderful Sydney artist
Nicholas Harding
if I could "follow" him on his Parisian trip by sending him questions and publishing his answers on my
Artwriter
website.
To my delight, Harding readily agreed.
Here is our exchange:
Elizabeth: Hi Nicholas, How long are you in Paris for, and what are you doing over there?
Nicholas
: In Paris for 3 months. 2 months as an AGNSW artist-in-residence in the Moya Dyring Studio at the
Cité Internationale des Arts
and one month in an apartment in the 1st arrondisement, with side-trips to New York for a week (first ever visit!), 5 days visiting Albi for the
Toulouse-Lautrec museum
, Vence for the
Matisse Chapel
and Saint-Paul de Vence for the
Maeght Foundation
. I'm basically 'feeding my head', looking at wonderful things, drawing from works in art museums, sitting in cafes and drawing people.
Since returning from a visit to London a week ago I have been getting sitters into the studio for portrait studies in watercolour and gouache. Have to work quickly – they take about 3 hours to do. The corner aspect of the studio on the 2nd floor provides a wonderful light and outlook. The room's ambiance is a fabulous catalyst for these sessions. More sitters are booked in this week.
I've enjoyed meeting up with other Australian artists staying in Paris. Paul Davies and his wife Sarah have just finished a 3 month stay here at the Cité; they sat to me last week (apparently the correct expression is 'sit to' rather than 'sit for', I was told recently).
Ann Thomson
is on one of her regular visits to Paris and staying in Montmartre; we've been out drawing, shopping for art supplies and swimming at the
Piscine Pontoise
together. Anna Herold Pola from Sydney and Amanda Shone from Hobart are in the Cité at present.
I don't want to be too prescriptive about what happens here. Its true effect will occur in time.
Elizabeth: You just went for a side-trip to London. What are you planning to see and do there?
Nicholas
: The Manet exhibition at the Royal Academy
'Portraying Life'
was very instructive. Some have been disappointed, apparently, by the number of unfinished works never exhibited in his lifetime on show but these are very revealing of his process and drawing with paint to construct and 'find' the image. And 'The Luncheon' alone is worth the visit. My advice to anyone going is to go late in the day as the crowds have largely gone by 5pm and almost entirely gone by 5.30 which gives you an all but empty gallery to peruse until closing at 6.
The
'Becoming Picasso' at the Courtauld
is magnificent. Arriving in Paris with several weeks to paint work for his first exhibition with
Vollard
in 1901, Picasso painted about 60 things and these 18 works are a selection of these. And all done at the age of 19! Brilliant.
'Schwitters in Britain' at Tate Britain
had a number of unexpected, and excellent, naturalist oil paintings; portraits and landscapes. The exhibition consists mostly of his abstract collages, and the sculptures are delightful.
And many lunches and dinners catching up with friends!
Elizabeth: Have you been to Paris before?
Nicholas: Yes. Was last in Paris in November 2011. My first visit was in 1977 where the work of many painters I love first had a real and lasting effect on me. And another visit in 1997.
Thanks so much to Nicholas Harding for this peek into his travels and adventures. I'll bring you more information as he continues on his way.
Elizabeth Fortescue, April 1, 2013