Archive for
June, 2011
Artwriter was happy to write a catalogue essay for a recent exhibition of Outsider Art at the Callan Park Gallery in the grounds of the Sydney College of the Arts. SCA, of course, is part of Sydney University and its Dean is Colin Rhodes, a specialist in the field of Outsider Art and the author of a book on the subject.
The SCA and the Callan Park Gallery are both located in the open parkland of Callan Park, Rozelle, where people walk their dogs and take advantage of one of Sydney's loveliest open spaces.
The exhibition for which I wrote the catalogue essay was Studio ARTISTS Untitled, and featured the work of five artists from a new collective known as Studio ARTISTS.
Click here to read the essay and see the Studio ARTISTS work.  Click here for a link to a good site called Other Academies.
Elizabeth Fortescue, June 19, 2011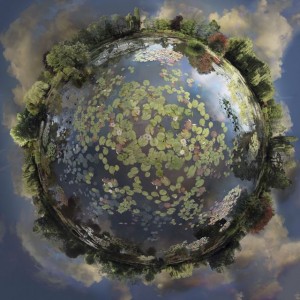 Catherine Nelson's photographs in her latest exhibition titled Future Memories at Dominik Mersch Gallery (until July 2, 2011) can only be described as visually enchanting.
The photographs, like Monet's Garden, shown at left, are a bit like looking up at the sky through the oculus in a 16th Century cathedral.
They remind me of the illustrations done by Antoine de Saint-Exupéry for his timeless novella, The Little Prince.  I have reproduced a copy of the cover below so you can see what I mean.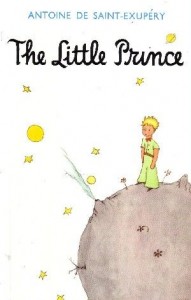 The photograph of Monet's garden is typical of the works in the show. I'll bet it's a view of the garden that old Monet never imagined would be possible. And I'm sure he would be delighted and enthralled to see his garden as it has never been depicted. Like a watery, weightless bubble, the lake and surrounding greenery become a world of their own. We come across this little world as though we have journeyed through the sky and suddenly seen it. If we step aboard we will be the only one there, free to explore.
The exhibition is part of the Head On Photo Festival. I couldn't resist adding it to my website.
Elizabeth Fortescue, June 8, 2011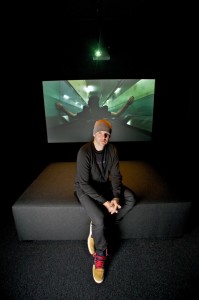 In March, 2011, I interviewed Shaun Gladwell for The Art Newspaper. The interview took place by telephone between me in Sydney and Shaun in London, where he had recently set up a new home and studio, having moved there from Australia.
I rang Shaun to speak to him about the move to the UK, and also about his then forthcoming exhibition at ACMI (The Australian Centre for the Moving Image) in Melbourne. The exhibition was called Shaun Gladwell: Stereo Sequences, and it went on to open at ACMI on June 1, 2011. It will be on until August 14, 2011.
The works in the exhibition are newly produced by Gladwell and their titles include Parallels, Pataphysical Ceiling, Labyrinth, Trials and Track Composition, Endoscopic Vanitas, and Different Trains (Tangara/Jubilee).
My thanks to ACMI for the photographs of Gladwell which I have used on this page.
Here is my interview with Shaun:
ArtWriter: When did you move to London, and why?
It's just relatively recent. I only really moved here just before Christmas. I've always been coming back to London since 2001 when I was here studying at Goldsmiths. I was here for a year studying on a Samstag Scholarship. It was when I established like a small network of friends and I feel like I became engaged in the city and I really loved all the institutions here and I've been coming back on a regular basis ever since. Recently it just made sense to move here permanently, or have my base here at least. I was doing so much travelling it made sense to be over here in Europe to make it a bit easier.
Missing Australia?
Not too much, because I did get a chance to get back there. We just shot this work for ACMI which was lovely. So after Christmas I did head back, and really focused on shooting the work, but of course that involved being in various Australian landscapes and that was fantastic.
You were in Jenolan Caves, Broken Hill, the M5, and Carriageworks?
That's right. Definitely some different looking landscapes.
Permanently based in London now?
Not really, it's just something that made sense just for the moment. This year it got to the point where there's been so many shows lined up for north America and Europe and it was really quite lovely to be based over here and minimise the travel time. The travel time was really getting in the way and I was spending time away from my studio in Sydney. It really was a move of convenience in many ways.
Where do you live in London?
In the East End. It's lovely to be in the artistic community over here. I feel like I'm in the middle of so many little galleries and project spaces. It's good to be in the east.
Your studio is at home?
I'm kind of just in the middle of setting the studio up here. I did move to Europe late last year. I'd just been in a residency in Belgium for three and a half months. I was based in Antwerp, and I had this fantastic studio in this old signal building. It used to be where the attendant of one of these huge locks used to live with his family. It was on the outskirts of Antwerp. That's when I first headed over to Europe and had a base and I've just hopped over to London.
Your work has been closely linked with the Australian landscape. Will that change now that you're in London?
I think all of my projects before the work that really did look at Australian landscape was really connected to urbanism and the city. I had this fascination with particular activity in urban environments and how people can respond to those environments, even to somehow react to them if that's the reading of the work. I'm certainly interested in responding to environments wherever they are, and also looking at how people respond to environments. So it is still chasing the same logic, it will just be that I'm having a chance to have a look at what's taking place in London at the moment.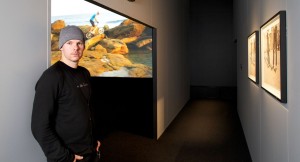 Turning to the work itself, would you like to pick one and talk about it?
Maybe I could talk about a work that has a few different parts to it. One of the works I'm just calling Parallels. It's a title that encompasses quite a few channels of video, and it looks at a range of different movements but usually it's chasing one of these themes that I really love which is bodies on vehicles or moving through space and the whole kind of repetition or recurrence in the video is these two figures and they're driving or in various vehicles, and they're recording each other. So there's no kind of crew and no performer. The performer is the cinematographer, and both figures are capturing each other moving through space in parallel. So all of these videos are showing two figures in two vehicles moving in parallel through some kind of environment. So it starts off with these two helicopters that are flying over French Island in [the Australian State of] Victoria, and you can see that these two helicopters are in the same space and there's people hanging off them recording each other so you almost found yourself as if you were caught in the crossfire of these two cameras, these two gazes of subjects, and that's quite a beautiful work to see these helicopters flying over this national park in the middle of this body of water. And then it moves to these two cars that I'm obsessed with, and this is where Ron Eagle who you met at Campbelltown kicks in. These two cars are the Mad Max replica cars, which I really love these Interceptor cars. It shows two people recording each other as these two cars are moving through a desert, and again that takes place with motorcycles, and then there's another sequence which takes place with two figures on skateboards, but the thing is interesting is it's a very basic contradiction that happens where you get these vehicles that are moving quite rapidly through space but their relationship to each other is fixed, like a zero relative speed, and I just love that look where you have a background that's scrolling by but the cameras are looking at each other in relative stillness. It's a really simple experiment, but it was quite nice to follow that experiment through all of these different vehicles that are all designed to tackle different kinds of spaces. So it was almost like a landscape survey and looking at this contradictory framing where you would have this stillness within speed as these people in vehicles traverse space. It is a really simple idea, like a lot of works I'm involved with. There is a really clear and simple action involved, whether that be looking at a whole range of bodies that are spinning in space; different kinds of spinning.
I saw in the shots ACMI sent me that you had a camera on a crane and it gave a birds' eye view of people spinning on skateboards, or dancing (Vivienne Wong from the Australian Ballet.)
That's right, that's another project I've recorded for ACMI. It's almost like an index or archive of different spinning movements. People riding bicycles, to skateboards, to capoeira to classical ballet. There's an interest in how all of these different movements can involve a spinning action, and I love setting up a kind of almost comparative study between those two or three or four different kinds of spinning movements. So you can look at the relationships and the differences between the two.
That will be a multi channel video, installed in the ceiling so people watch them by laying down on the ground. It will be nice for people to relax and take a load off their feet. They're going to be almost looking down at the images, even though they'll be looking up at them. I really thought about how the viewer's body would be more interesting to re-orient in relation to the screens.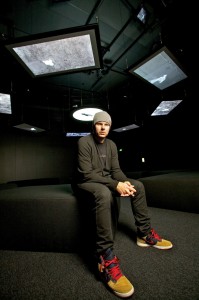 Vivienne Wong is from the Australian Ballet?
Amazing. She was great to work with.
How did you get on to her?
I've just been a fan of hers. I've watched her dance a few times. She's been receiving all these awards, she's just a bit of a star. I just wanted to work with her because she has such great form, technically she's just astounding as a dancer. What I was after was asking her to do something very different to what she would normally be involved in which is a whole choreographed dance piece. I was just interested in one or two pirouettes. So when she came to the studio she already heard this idea that I had and she just performed these different versions of spins so she would be part of this community of spinning bodies.
Have you seen her dance with the Australian Ballet?
Yeah, it was great. She's quite a star at the moment. It was great to see her dance for this project as well, because some of the forms of movement aren't normally associated with an idea like grace, for example. Like capoeira is really quite graceful in its own way, but classical ballet has a particular kind of movement that people associate with balance and grace and whatever and it was quite strange to see it from a bird's eye view, because it was kind of a leveling strategy where all of these spinning forms are shot from this unusual angle.
Were you a performer in it?
Yeah, I did have a spin on a skateboard.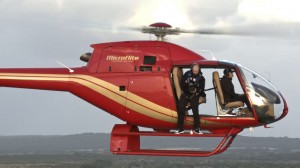 You were one of the ones on the helicopter as well?
Yeah, that was a lot of fun.
Scary?
Yeah, I mean we were kind of fairly high up but it was such a wild experience physically because we didn't want to shoot it on a calm day, it made sense to shoot it with like a bit of a wind and that was kind of nice. You can't really see it in the video but there was this kind of a little bit more drama involved in shooting the work with the helicopters without doors on with this wind, so it was quite an experience to be up there and battling the elements.
Is the ACMI work all done?
Oh, I always tend to keep working on it right up until the last minute. Even though the work doesn't involve huge amounts of editing, it's always a labour intensive process because I never leave it, I always readjust it and change it and grade it. That side of the process I really love; after the image has been captured, this slight manipulation of the work. I love that. It's quite nice seeing these Australian landscapes on my computer screens in London. It's not so much a homesick experience, but it's quite nice to still be connected.
Elizabeth Fortescue, June 4, 2011