Archive for
May, 2011
Wayne Tunnicliffe has just been announced as the new head curator of Australian Art at the Art Gallery of NSW, replacing Barry Pearce who retired in February and who is now located at the Brett Whiteley Studio. Wayne was previously curator of contemporary Australian art at the gallery.
The gallery also announced the appointment of Kirsten Downie as assistant director, marketing, development and membership. Kirsten was previously head of marketing and communications at the National Gallery of Australia.
Follow this link to the gallery's media release.
Elizabeth Fortescue, May 25, 2011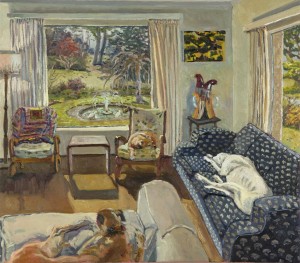 Lucy Culliton is an Australian artist who has built a large and stuck-fast following thanks to the steady stream of heartfelt, individualistic, quirky and sheerly gorgeous paintings that she has been producing since graduating from the National Art School in 1996.
I first met Lucy when she had just left her horse-painting period behind and was entering on a new obsession, this time with iced cakes.
Lucy's cake paintings dripped with slickly shining icing, they oozed with whipped cream, their decorations stood out so that you could almost pluck them off and pop them in your mouth. At that time, Lucy was living in Surry Hills in the inner suburbs of Sydney, and she bought her "models" from the local cake shop. They were so full of preservative they took ages to go off.
Since the cake phase, Lucy has moved on through her hens and roosters stage, her particularly robust cactus phase, her rusty shed-stuff stage, her country show with decorated Arrowroot biscuits and knitted toy stage, and so on.
Her present preoccupation is with painting her beautiful new home just out of Bibbenluke village in the rural Monaro district of southern NSW.
It is Bibbenluke Lodge, as her home is called, which was the subject of Lucy's recent exhibition, titled Home, at Ray Hughes Gallery [April 2-28, 2011].
Throughout the process of becoming a very well-known artist, Lucy has never changed. Her sole focus has remained on her work. She has always surrounded herself with animals of all shapes and sizes, from the dogs that are always around her feet, to the rat and the rabbit which she kept at her Surry Hills home when she was living there, to the pet lambs she now has roaming around her big country garden.
In the exhibition, Home, Lucy was in top form, painting herself into the interior landscape of Bibbenluke Lodge, the house that was built in the 1930s and subsequently pressed into a range of uses including that of a fishing lodge.
Not that Lucy literally paints herself into her pictures of Bibbenluke. But her spirit is there. She paints her dogs sprawled on the rumpled bed, her poddy lambs with their legs tucked up underneath them on her living room chair. There's a painting called The Good Room – 'Reno', with a Tasmanian tourist tablecloth on the table and a big painting of a skewbald horse on the wall, evidently one of Lucy's current or former steeds. She current has five. There's Lucy's clothes rack in front of the gas fire while a couple of dogs curl luxuriously in the armchairs. Only in one painting, Other Bathroom, do we see the artist herself. She is right at the end of the picture, reflected in a bathroom cabinet mirror looking past the pedal bin, the toilet, the bath and basin, and the oil heater. Lucy shows herself at her easel, blissful, loving every stroke of her new home and her new life.
"I love this place [Bibbenluke Lodge]," Lucy writes in the introduction to the Home catalogue. "In the morning I wake up excited about the day ahead … all my projects that I have planned. They are alays packed into a very full day which starts with a pot of tea, then I'm out greeting and feeding my 'family' of animals. After my breakfast is painting. Painting is my job; I love my job"
Later in the day she will ride a horse, tend to her large garden, do some craft. Through Lucy's paintings, the rest of us can be there alongside all this happy and fulfilling activity.
I interviewed Lucy on April 14, 2011, for a story I wrote for the Daily Telegraph. The story was about the exhibition, Home. I reproduce it here, with light editing.
How long has it taken you to make the work for this exhibition?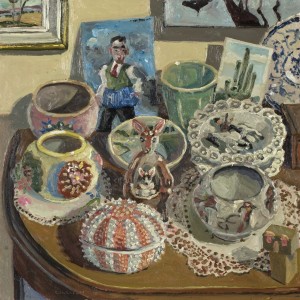 This current show is about a year's work. [It's been] 18 months since the last show but it took me six months to figure out what I was painting next. I painted different paintings of different subjects but it took a while to work out I was going to paint my interior, that that would be my next direction. After a show finishes, like right now, I go out, I paint landscape, I paint a bit of still life, I get someone to sit for me, and then I decide, when it's ready, what will be my next theme. You've got to think about it.
Did it come to you in a flash you'd like to do the interior of Bibbenluke Lodge for your show?
I have collections of things and I was thinking I would paint them, but I guess I wanted to include the garden so that sort of came out of that.
Some of the paintings in the exhibition have real lambs sitting on the furniture. Did you really have sheep in the house?
I did. They were poddy lambs. It was in the middle of winter; it was very cold. They both had nappies on. You can't house train a lamb. They'll wee on your lap while you're watching telly.
Do you have to use special lamb nappies?
No, I was terrible, I had disposable nappies. The first nappy I started was the newborn nappy and Map, the bigger lamb, got into junior size nappies and I'd have to tape them around her middle because she got too big for them. [The lambs are Map and Marvel.] I now have Kenny Wayne and May Belle [new lambs].
What are poddy lambs?
They're orphaned or rejected by their mothers, so they're hand raised on the bottle. A grazier neighbour gives me his lambs.
What happens to them once they're grown up?
They're pets. They're outside and they're pets. And when I go for a walk, they all come with me.
They imprint on you?
Totally. Sheep are beautiful. I love sheep.
In the "dog room" painting you have a magpie inside the house. Did it come in as well?
Yes. The first two years I was here I had a baby magpie called Baby. He was free to come and go but he slept inside at night. He disappeared after a while but last winter I had another juvenile magpie that I rescued, it was drowned on the road, and I had him for two months. And that was him in the paintings. I didn't want him too tame, so I fed him worms and cheese and dog food.  I wanted him to go back out to the wild. [He did.]
And what about the ducks in the washing basket?
Yes, that was one duck, and then he got up and moved so I painted him again. That was a rejected duckling that I had in the house for a while.
How long have you lived at Bibbenluke now?
Three and a half years. Four in September. The community is very welcoming. I've made really good friends. And everyone's interested in my painting and what I'm up to and I've got really nice support.
Sounds like you've found exactly the right spot.
I did.
How many dogs have you got?
Three. Birdie [Lucy's parents' dog] was visiting. The others are Bonnie [the Staffie], Earl [the greyhound] and Hephzibah [the Blue Heeler].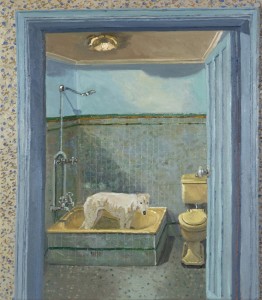 My favourite painting is the one of Earl in the bath or shower [see image at left]. How did that picture come about?
Well I wanted to paint my bathroom and I wanted somebody in the picture, so I put him in the bath and told him to stay. It has no water in it, but he just stood there, and I painted him, and then he got out.
He didn't mind?
Well he looks pretty sheepy in the picture. He wasn't happy. He thought he was going to get washed, but he didn't.
[Sadly, Lucy's nephew Reuben Culliton, 17-year-old son of Lucy's artist sister Anna Culliton, had been killed in a car accident on March 12, just a few weeks before this interview. Lucy went on to speak of Reuben with great affection.]
I was training him to be … well, he used to prime all my boards and sand them just right. I got him well trained as an artist's assistant.
What would you like to say about Reuben?
Well, he was a great musician and he had made a couple of fantastic short films at school which won awards. He was just friends with everyone. He was my assistant. He used to come down in his holidays and work for me in my garden and I'd pay him to ride horses, I'd pay him to prime canvases for me and sand them back and things.
It sounds like you guys were really close.
We were. When he was born, Anna and I and Boris [Reuben's father] lived in a share house, so for the first year Reuben was a flat mate. So he's my only experience of living with a baby. He felt like my borrowed child. You know how for population you replace yourself?  I always thought, well, Anna [who has two other children] has replaced herself, Boris has replaced himself, so Reuben can be me.
Elizabeth Fortescue, May 10, 2011