Archive for
January, 2011
The art world is very sad to learn today (January 31, 2011) of the passing of the well-known indigenous artist Ian Abdulla. Abdulla died in the early hours of Saturday morning in hospital in Berri, the South Australian town on the artist's beloved Murray River. His death followed a short battle with cancer. He was 63.
Abdulla's work held a unique place in Australian art. His style was unmistakeable. Every painting told a story, one that was close to Ian's heart and which he knew from personal experience.
His paintings had an unusually strong feeling of integrity and sharing, each one holding out an invitation for the viewer to enter his world and learn about how life was for him. Each painting told a narrative about his boyhood and teenage years, growing up on the Murray River in South Australia. It was a particularly beautiful part of Abdulla's work that he would almost always write a short description on each painting to flesh out the narrative depicted there.
Abdulla was still painting into December 2010. He spent Christmas at home, although he was ill, and entered hospital shortly afterwards, one of his dealers, Anthony Bond, told Artwriter. He passed away with his family by his side. Berri is in his Ngarrindjeri homeland, and close to where he lived in Barmera.
Anthony Bond said 2010 had been a great year for Abdulla. In April/May he had exhibited his work at Mendel Art Gallery in Canada, and the British Museum had acquired one of his paintings. For the last two years running, Abdulla had been a finalist in the Telstra National Aboriginal and Torres Strait Islander Art Award.
"His life wasn't easy, but he was unique," Mr Bond told Artwriter.
Abdulla had been proud of his Afghan and Aboriginal heritage. He was in the process of researching his Afghan forebears.
"He loved people; he was a real people person," Mr Bond said.
"He had an amazing memory for people's names. He really loved his family and would do anything for them. He was a beautiful person. He was eccentric in his own way. He loved talking and was very up to date with the affairs of the world."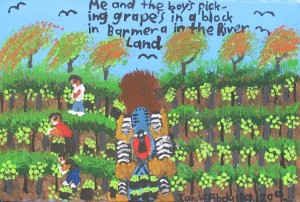 Abdulla would have the television news channel running constantly while he was painting.
Although Abdulla faced up to tragedy in his life — he buried two of his sons — he was never embittered by life's challenges.
At least two books of Abdulla's works have been published for children. As I Grew Older was awarded the Australian Multicultural Children's Literature Award in 1994 and Tucker was short-listed for the Children's Book Council Eve Pownall Award for Information Books in 1995.
Ian Abdulla will be sadly missed, but his contribution to Australian culture is immense. The artist will be buried on the former Gerard Mission in South Australia, where he spent many of his childhood years.
Elizabeth Fortescue, January 31, 2011