Archive for
October 18, 2010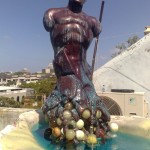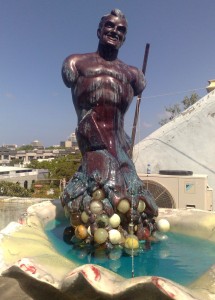 Here's a sneak preview of Bjorn Godwin's sculpture to be exhibited in Sculpture by the Sea from October 28, in Sydney. I photographed it last week when I interviewed Godwin for my story in today's Daily Telegraph.
Yep, it's an adaptation of Chesty Bond, the logo that Bonds used for many years to advertise its singlets. The model for Chesty was Max Whitehead, who died in March this year. Max had been a wrestling champ and surf lifesaver, not to mention the first caption of the Manly Sea Eagles rugby league team. Believe it or not, Max was also a chicken-sexer in the sporting off-seasons.
Godwin's sculpture is titled Golden Boy (for the convenience of passers-by). The title makes reference to the undergraduate antics of the editorial team of Oz magazine back in the 1960s when they posed for a famous photograph which appeared in Oz and landed them in court on obscenity charges. In the picture, the boys appeared to be relieving their bladders into the Tom Bass P&O Wall Fountain. The fountain is let into the side of an office block in Sydney's CBD.
Golden Boy, according to Godwin, is also commenting on the Australian predilection for nationalistic monuments. Like many of these monuments, Golden Boy will be surrounded by a white-painted chain fence.
There is a clear art-historical reference in Golden Boy, where Chesty Bond emerges from his oyster shell in the manner of Venus emerging from her shell in Botticelli's famous work.
I was taken with Godwin's studio on the rooftop of a tiny building in Chippendale, near Broadway. It was reminiscent of Le Corbusier's Notre Dame du Haut, which I have only ever seen in my old school art book. There was the same curved roofline and tiny square windows. You can see them in my pictures. Elizabeth Fortescue, October 18, 2010