Archive for
February 28, 2011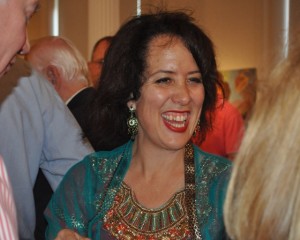 Wendy Sharpe is one of the most exciting artists in Australia today, and her career is in full bloom. A survey exhibition of her work has just opened at the S.H. Ervin Gallery on Observatory Hill in Sydney, and ArtWriter was there to record the event for these pages.
The exhibition was full of the boisterous energy and love of life that fills Sharpe's works, from her paintings to her drawings and sketch books, from her studies of the nude to her travel-scapes and her quirky portraits of herself and others.
The exhibition is called Wendy Sharpe: The Imagined Life. It is on display at the S.H. Ervin Gallery until April 10. A new DVD by Catherine Hunter and Bruce Inglis featuring Wendy, her partner Bernard Ollis, and ArtWriter, has been released to celebrate this landmark show. A new book has also been released.
I hope you enjoy these images. I enjoyed taking them.
Elizabeth Fortescue, February 28, 2011