Archive for
April 8, 2011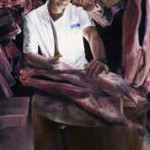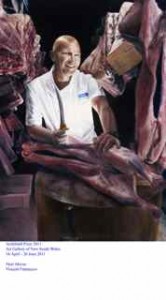 Vincent Fantauzzo won the Packers Prize at the Art Gallery of NSW today, with this portrait of the Sydney chef Matt Moran.
For the uninitiated, the Packers Prize has cemented itself into the program of fun and games surrounding the annual Archibald Prize at the AGNSW. The Packers Prize is judged by the jovial chief of the packing room team, Steve Peters, who controls 51 per cent of the vote.
Each year, AGNSW director Edmund Capon introduces Steve to the media as Professor Doctor Peters, or some such, and Peters takes the mic with a great deal ofbashful charm to announce his winner. Peters has often told me that his main criteria is "it has to be a good painting".
So this year's winner was a "no brainer", Peters said today. It was a celebrity chef he had enjoyed watching on MasterChef, painted in suitably realistic style by a popular young painter from Melbourne.
It was indeed a "good painting".
This year, the Trustees of the gallery agreed with Peters, and chose the Moran portrait as one of the finalists in this year's Archibald Prize, to be announced next Friday.
I would say Fantauzzo's painting is in with a chance. He has shown good form in the past, having won the People's Choice award in the Archibald with his portraits of Heath Ledger and the little boy from Baz Luhrmann's Australia, Brandon Walters.
However, the judges would do better to look beyond celebrity and check out some of the other paintings among the finalists.
My pick is definitely
Rodney Pople'
s witty/sinister self portrait, titled Artist and Family (after Caravaggio).
Open up your art history books, and you will see that the Mannerist Italian master
Caravaggio
did a painting of the Biblical story about Judith and Holofernes. Judith seduced the military general Holofernes, only so she could slay him when he was drunk, and prevent him from taking her township.
In his version of events, Pople has depicted himself as Holofernes. His head is being removed by his wife, the Sydney art curator Felicity Fenner. And standing by watching the grisly event are the couple's two young children.
I reproduce a picture of Pople's work, alongside the Caravaggio.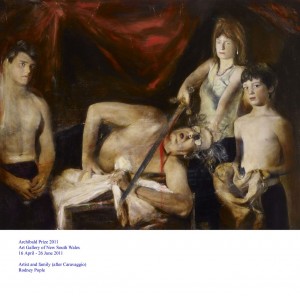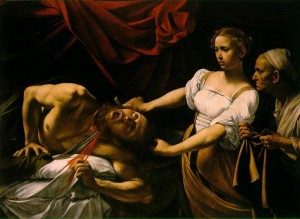 And, finally, here are a few snapshots I took during the media melee at the gallery today.
Elizabeth Fortescue, April 8, 2011