Archive for
September 29, 2014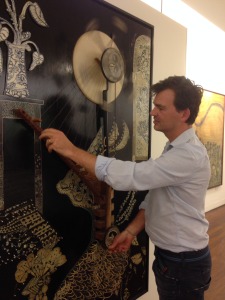 Joshua Yeldham's mid-career survey exhibition, Surrender, which was opened by actor Richard Roxburgh at the Manly Art Gallery and Museum on September 19, 2014, gave me the opportunity to meet and interview this extraordinary artist.
Yeldham creates much of his work on board his romantic old motor cruiser while it is moored on the lower reaches of the Hawkesbury River around Refuge Bay.
I asked Yeldham about his new book, also called Surrender, which was launched in tandem with his exhibition. The book is a peon to his 10-year-old daughter, Indigo, who was born after Joshua and his wife Jo went through the IVF program. Yeldham said he made a conscious decision to move to a watery environment while trying to conceive a child. 
"That barren period was while I was in the desert, so it connected to the desert being the dried mother of all oceans," he said.
When Yeldham began to dream of an owl which swooped down and stole his and Jo's "potential children", he drew on what he learned in his travels throughout North Africa and began making charms to appease the owl.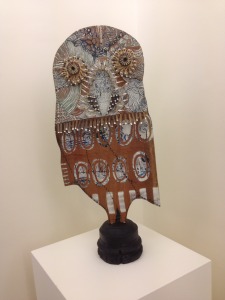 "Finally Joey became pregnant, and I started to celebrate the owl and give thanks to the owl and to make musical paintings that are owls that play music, which is melody, rhythm, repetition, learning to push through adversity and maintain navigation," Yeldham said. "So the owls over 10 years have transcended from being ominous to being navigators for me. And also maternal."
The owl is not a common Hawkesbury River inhabitant.
"They're very secretive. All nature in the Kuringai is very secretive. It's not an abundance of blatant wildlife. It's like an ancient temple for me, the bush. It's so removed from humanity and all that's left is the traces of enormous forces that push boulders down gullies and forces of erosion and weathering of sandstone and tidal currents that don't permit humans to last long there."
Yeldham explained his philosophy, underlying all his art, that new life springs from destruction. He believes this is as true for human life as it is for, say, regeneration by fire in the Australian bush.
Yeldham spoke about growing up in Sydney's eastern suburbs, and joyous holidays at his parents' hobby farm on the Hawkesbury River at Ebenezer.
"When I was around 10, my mum and dad divorced and the farm became barren. The family unit stopped to exist. We still own the farm, but all of us let go of it because it contains such powerful memories and joyful memories and then in the separation it lost its fertility again, the ability that we would all grow as a family. And I wanted to reclaim the river as a new husband and as a father to my children and to teach my children the knowledge of the river, and it was a calling, really, to return."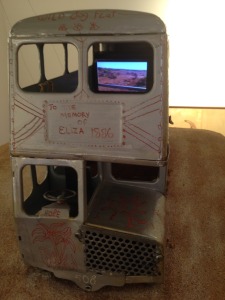 Yeldham sometimes takes his boat up to the old farm. But he gravitates to the "mangrove country" near Spencer and in the Kuringai country in locales such as Smiths Creek and Yeomans Bay. Yeldham said he loves the mangrove country because of its physical hostility as far as humans are concerned. "When I spent time in there, there's no reference to human life. You can camp there and you're lost in time."
I asked if Yeldham goes to the river to paint alone. He said, emphatically, yes. "I go to the river to collapse and then create, which is creation coming out of the burn-off. That's one of the most ancient stories any of us can access. And to not fight that process but to embrace it with great elemental awareness and gratitude."
I asked Yeldham if he planned a sequel to his book, Surrender, that would mainly be for Jude, his six-year-old son, also born by IVF.
"That's what everyone's asking. We're busting to do that. We've all been in Africa, all of us, since then, and it's so much about my son the way he saw Africa and travelled. So yeah, why not?"
Elizabeth Fortescue, September 29, 2014