Archive for
March 20, 2015
It was wonderful to see John Olsen, one of Australia's oldest living masters, on top of his form at the Mosman Art Gallery this week.
Olsen had made the special trip from his Southern Highlands home to present his painting, titled The Rolling Sea and That Streeton Painting, 2014, as his gift to the gallery.
Exactly why Olsen made this generous gesture, or even created The Rolling Sea in the first place, dates to 2012 when Sydney benefactor Neil Balnaves gave 16 valuable Australian Impressionist paintings to the Mosman gallery.
Olsen had been invited to the celebration surrounding the Balnaves gift, and immediately fell in love with the painting reproduced on the invitation he had received in the mail.
The painting was Sydney Harbour, 1895, by the great Arthur Streeton.
Here are Olsen's delightful comments yesterday when he walked into the Mosman Art Gallery and saw The Rolling Sea hanging next to Streeton's Sydney Harbour:
"That's delicious! It's almost edible!", Olsen exclaimed at the first glance of his picture.
"Oh, that's lovely. I'm so pleased."
And then he was off, speaking off the cuff in his charming way, telling assembled media all about the picture with barely a prompt from any of us.
"Have you ever travelled on the Manly ferry? And you get to Balmoral way, and it's getting near the Heads, and it's been very rough weather and the Manly ferry ploughs into the sea, and it's very swirly.
"And you see the difference between the two pictures of course. Streeton's is very very special. It's 1895 when Streeton first came to Sydney from Melbourne and he's in great form. Somehow Sydney rejuvenated him, dare I say after Melbourne. And so he did marvellous pictures of the Hawkesbury River, fabulous pictures, (like) Still Glides the Stream, and he took a vantage point there which still exists today. It's just something that happens to creative people; they can hit their top and everything they do is bloody marvellous. The point being is that whilst they're blessed, they don't know. There's this area of not knowing. And this is a divine picture. When I first saw it I was completely taken by it. I sent a reproduction of it to Clive James, who has very serious illness, leukemia, and he lives in Cambridge and he'd love to come to Australia and he can't, and he said 'I like that picture so much that I've put it on my bedroom side table'.
"So there it is, and you see it's just so important and the ferry is just meeting that slight tidal movement at sea and in between there's a most interesting thing, there's a big clipper coming in, and there is the modern ship, a steam ship, but they're still using clippers, it's 1895.
"Over there is Vaucluse – no houses there! It's just fantastic. And this lovely touch of the smoke and everything about it is a state of grace. Somehow it's a blessed kiss that's taken place. And the sailing boat. But this is another very revolutionary thing. He can see that the best way to do the harbour is to increase by elongation, and furthermore it's a picture that breaks the chains of us being a colony; it's completely democratic. Fantastic! It's such an important picture, and I don't think Mr Balnaves knew how good it was until I told him. So here it is in the gallery, the right place for it, and it's in great condition. Later on, have a close look. It's not mainly blue, there are little touches of violet in it. And the sailing ships are like punctuation marks. And it's playing again the long, long land mass here. It's beautiful. And the Heads are again so beautifully painted. It's a little masterpiece! People should just come, which is the best way to see pictures in the Louvre, just come to watch one picture and hopefully two (indicating his own picture next to the Streeton).
"Whilst Streeton's picture is planular, this picture (The Rolling Sea) is what I would describe as being in the all-at-once world. Meaning that it's below the water; it's the movement of the water, and then the slow sort of turning of the heave of wave. It demonstrates how we in the 20th/21st century view things; that we just don't really say what I'm looking at is the fact; it's what lies around it and what surrounds it. And so in consequence this is a kind of reinterpretation. The basic tonality really remains the same, which is what Sydney Harbour is. How luck we are to have the harbour! It's there to be enjoyed, and I'm very moved that it should be with Streeton. What I'm able to say is that 1895 is a divine period. In 1897 Streeton left Australia hoping to do well in London. He never succeeded. He was sort of there but not there. And he came back, and that innocence had gone. I'm sure you understand the fragility of creativity, and the point of it is the creator himself doesn't know he has it.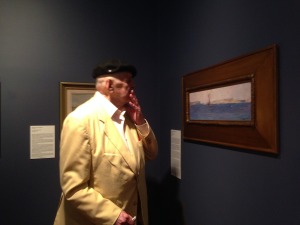 Did you have a copy of the Streeton in the studio while you were painting yours?
Yes, I did, but you see there is the challenge, that it's no good just following like the pattern of Streeton, even though you can obviously see how much I admired the picture. You have to say, 'close your eyes. What do I feel?' And it went back to when we were students at Julian Ahston's art school and we used to love to go on the ferry when it was rough weather in winter. And we used to love to be not in the cabin but in the front part of the boat, which was a very dangerous thing at the time because the sea often runs over the front of the ferry. And there it was going up and down, and I noticed the ferry in the Streeton picture, of how it was like in that kind of swell is the word, and I thought, 'now I've had that experience, I think I should travel with that'.
Do you have in your mind's eye exactly where your picture is situated in the Harbour?
Oh well it's round about the same point as that (the Streeton), slightly towards the Heads.
Your painting is such a generous gift. Why did you do it?
When in love you have no defences!
I think if you live in Sydney the harbour stains your sensibility. There's something very special about it. It's the air, and somehow the feeling of belonging to Sydney which is quite different to being a visitor.
Elizabeth Fortescue, March 20, 2015