News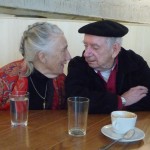 These rare photographs of Charles Blackman and his first wife, Barbara Blackman, were sent to me this week by their son Auguste Blackman, who gave me permission to publish them on my website.
The photographs were taken by Auguste at the Blackman Hotel in Melbourne this month, the day after the hotel's official opening at which Charles, 82, had been the star attraction.
The photographs show Charles and Barbara sharing breakfast in the hotel.
One of the pictures shows Charles Blackman with his daughter Bertie Blackman.
My thanks to Auguste for permission to use these delightful and intimate family snapshots.
Elizabeth Fortescue, September 15, 2010