Juz Kitson in the Redlands Konica Minolta Art Prize at the National Art School: "It's not about the shock factor, and never has been"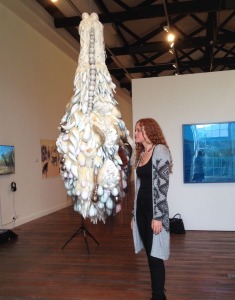 Juz Kitson was selected for the Redlands Konica Minolta Art Prize, on now at the National Art School (until May 23, 2015).
Kitson's work, titled Something Sacred, is a mad bouquet of strange, seemingly half-formed, animalistic objects. It is suspended from the ceiling and hangs clear of the floor, globular and vaguely confronting. Artist Sophie Cape selected Kitson to show with her in the Redlands Prize, which was curated by artist Tim Johnson.
Kitson was selected to exhibit in the 2013 Primavera exhibition of young artists at the Museum of Contemporary Art Australia.
She grew up in Sydney but lives in the Yarramalong Valley.
Here's my interview with Juz Kitson:
Elizabeth Fortescue: Sophie Cape selected you as the artist she wanted to show with. I couldn't imagine two more different artists. 
Juz Kitson: Well, that's the thing. When Soph approached me it was at the beginning of the year and we've known each other for about six years. We studied together at the NAS but about a year apart. Our work is very different aesthetically, but we both have this burning desire to create and to challenge our physical being in the type of work we do. We both work in the Australian landscape. The constant collection of bones and using the environment to not only physically inspire the work but also taking resources from the immediate environment. For me it's important. I spend a lot of time in the central west like Hill End and Broken Hill, physically going out and collecting road kill and taking different animal carcasses back to my property on the Central Coast, putting it on to the ants' nest and letting the ants eat away at the flesh and letting them be weathered by the extremes of summer and winter. In terms of that we share a lot in common, but the aesthetic is very different.
You also share a Chinese connection.
I think she once did a Chinese residency.  I have a studio in China and I've been working there for four years and developing my own practice within a traditional porcelain city which has been producing for over 2000 years.
That's incredible.
It's phenomenal, working alongside artisans. Facilities, mould making, slip casting, PVD (physical vapour deposition) which is a form of chroming, different techniques that are just inaccessible to me in Australia. So I create the foundation of the works while I'm in China.
It's amazing I'm back five years after graduating at the NAS. NAS was a huge influence in that because they gave me a residency in partnership with Tsinghua University. I went over and spent three months working in art and design (department) of Tsinghua. And inevitably things just evolve and happen. You'll meet a curator and a week later I'm having an exhibition at 798 art district.
(Kitson was also influenced by the Chinese performance artist Lin Tianmiao.)
I got in touch with her and asked to be a studio assistant. She let me live with her in her home on the outskirts of Beijing. I lived upstairs and worked in her factory with 25 other female artists, no English, 11 hours a day, seven days. Towards the end she was quite interested in what I was doing and said I needed to go to the ancient porcelain city, Jingdezhen.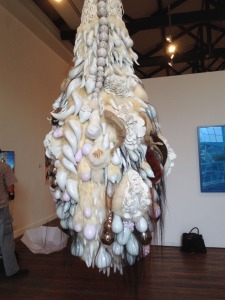 (Kitson first went to Jingdezhen in 2012.)
It was inevitable that I end up there. I spend half the year there.  I can't get enough of it.
Can you talk about Something Sacred?
This piece was specifically made for the Redlands. I wanted a sense of it being a still moment, that it is going to start breathing. Or bite you or pull you in. By taking something like the horns and road kill, lifeless and inanimate, but to give it new life. And there is a sexual connotation to a lot of the pieces. This one's quite subtle in terms of the previous work I've made. it's not about in terms of shocking. I want the work to quietly provoke, and people to be drawn to it, or inspired but also repulsed. But quietly. It's not about the shock factor, and never has been.
Nature has always been a huge influence. I remember as a child always collecting leaves and sticks and constructing pieces out of that. There's always been an absurd, obscure fascination with even insects.
David Walsh of MONA bought your work?
In 2009 I was half way through the finished installation for my honours project and Emerald Fitzgerald invited David Walsh to come by my studio unexpectedly. He walked into the space and saw the work unfinished. Within four minutes he said 'how much?'. That was really the pivotal moment.
You were censored in Art Dubai?
They took down nine objects out of 68 objects. Initially I thought it was the form being sexually suggestive, but it was the hair being classed as erotic.
Elizabeth Fortescue, March 30, 2015
No comments yet.
No trackbacks yet.