Elizabeth Fortescue
Elizabeth Fortescue is the visual arts writer for the Daily Telegraph, Sydney, and Australian correspondent for The Art Newspaper, London
Homepage: http://www.artwriter.com.au
Posts by Elizabeth Fortescue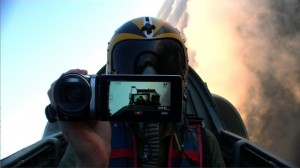 I interviewed Shaun Gladwell at Anna Schwartz Gallery in CarriageWorks on October 25, 2011, during the installation of his exhibition, Riding with Death: Redux. Here's the text of our interview.
Gladwell, who has moved to London to live, talked about his parkour video titled Midnight Traceur.
This is the one that features this parkour artist, Ali Kadhim. He's an amazing performer. He's the star of the show really. He is unbelievable. It starts off in the day, sort of late afternoon, then it moves into these sequences within Sydney at night, so he's doing these highly athletic performances in various (locations). [The video is slowed to about 40 per cent of real time.] He's just so incredibly athletic that every single move is just wild. But this is maybe a different experiment to other parkour videos which are usually very fast and furious. But to slow it down, of course I'm interested in the grace, and all of the detail, and also it's like a structural film so in every scene it flips between a steady cam which is close and chases him, and a wide shot which includes the method in which he was recorded. It flips between the two for the whole video. You always see the performer and this choreography that takes place between the performer and the camera person, and the next scene is the removed view, the wider view.
Shaun spoke about the part of the video where Ali Kadhim interacts with water features.
Yeah, this is when it gets raunchy when he goes and he deals with water. There's  a whole section of the video where he's sort of dealing with these water features in the city, so it's really quite a beautiful  series of sequences. That's actually in Darling Harbour. We're just playing with it in a different way. The work [Midnight Traceur] features as a secret parkour tour of sydney, which I like. So the work really does track this single parkour free-runner — they call them free-runners or traceurs — through his favourite spots in Sydney.
Parkour reminds me of the movements cats make.
It's interesting you make that reference to cats because Ali is probably the best known parkour free-runner in Australia, and they have crews like break dancers and his is called Nine Lives which I think is appropriate because I think he's probably already spent eight doing this. But they love the cat aesthetic and one of the moves is called a cat jump.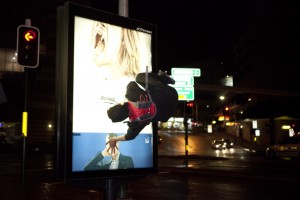 It's like urban ballet.
It is, it's a good way to describe it. There's an incredible amount of skill involved. And it's interesting because it in a way redesigns space through performance. I always see it as like these other urban activities I'm interested in, where there's a function that was intended for that space, where that architect or civil engineer or landscape gardener had a particular purpose in mind and there's this other purpose that gets attached to it, kind of like a para-function, and this is what I'm interested in, this idea that they're bringing their own interpretation of use to the space.
Shaun stopped to speak about a particular part in the video.
This is actually not parkour. Ali is involved in break dancing and martial arts as well. And he's incredibly good at parkour and break dancing and martial arts. So these are actually break dancing moves. And this is actually a capoeira move. So it's almost like he's involved in all these different styles. The thing that I love about his practice of parkour is that it's not just pure parkour, whatever pure parkour is. He's the multidisciplinary parkour free-runner, and there are not too many around.
That's a wild move. Basically just playing with the city. But I do love the idea that he educates younger practitioners, and they do have this history that's borrowed from break dancing which is this idea of battling where they have rival gangs but it's actually not fighting, it's just testing each other's skills. So instead of gang-related violence, they're actually dancing with each other.
Shaun spoke about the exibition in general, which included other works.
There's quite a lot of disorientation going on in the show. Like the body is involved in a kind of manipulation of gravity and space. [In the video titled I also live at one infinite loop] the figure is in a military aircraft and what's taking place is it's an aerobatic experiment. It's actually myself in this jet fighter with this acrobatic pilot and the guy's like a military pilot so he has this aircraft that's capable of doing these incredible things, so as you can see the horizon starts to kind of warp and the idea of wherever north is or the sky starts to become a little bit confused.
In this work I really love the idea that the military technology is being played with somehow. It's not being used for its intended application, which is horrific. It's being used as a kind of play thing, or a toy. And also the cameras are fairly dysfunctional when they're looking at each other like that. They're recording a landscape and a figure within a landscape, but the feedback loop is in a way a distortion of the camera's function. You can't even control it, and the camera was never designed to go into feedback. It was always designed to just shoot a picture plane in front of it. So there were several little plays going on.
Where did you shoot the video, I also live at one infinite loop?
This one was in Australia. I did get the idea in Afghanistan [where Shaun was sent as an official Australian war artist], working with these sort of planes. But for security reasons they couldn't [do it there]. The areas they were flying over were pretty sensitive.
This was in the Hunter Valley. We wanted a pretty green, lush landscape, but I didn't really see the landscape because it was just kind of scrolling around underneath me and I didn't even know which way was up. That's the plane kind of just doing a total loop. My hand's going to start to shake when it comes down because the gravity forces are increased. I actually asked the pilot if he could try and knock me out. We were doing this without a gravity suit which forces the blood out of your limbs. I was feeling really light-headed. I think we got up to about 5.
Were you worried about nausea?
I'm OK with that. I like throwing my body around. I made sure I didn't have a big lunch before this took place. But the pilot is incredible. This is his office. I think it's bizarre that he's training himself to undergo these pressures, try to work out where the hell he is in relation to the horizon line. I like the idea that it's quite a slow video in many respects, and there's no editing. It's a single, attenuated, protracted take. All the imagery around this kind of stuff we probably know from Hollywood, this Top Gun style, and the editing is fast and furious and macho and again like the parkour work there's something really graceful about this activity.
What type of aircraft was it?
It was an L39. They all have these codenames, and that's known as the Albatros.
Tell us about your work titled Erased Hirst, a skateboard that originally had a Damien Hirst spot painting on it.
It was a limited edition skateboard that Damien Hirst did through this company called Supreme. They deal with artist's editions. The company asked Damien to do this skateboard, which was great; I think it was fantastic that he did it. But what I was interested in was the fact that usually skateboard graphics are erased through the act of skateboarding. I thought it would be great to erase a Damien Hirst board by the deck being used rather than being like a limited edition artwork. It almost reclaimed the board's function, but it did connect with this moment that Rauschenberg looked at De Kooning. It's this kind of conceptual gesture.
Did you feel you were paying homage to Hirst?
Yeah, definitely. There is this interesting relationship between the artist who is erasing and the artworks being erased. They think that for Rauschenberg to say he was paying homage to De Kooning, it's kind of a double-edged statement. I can imagine he's identifying De Kooning's work because he loves it. He would have to care about it enough to want to erase it. But it's probably closer to the oedipal complex where he's identifying the authority of this more senior artist who was at that time King of the Kids. Once Pollock dies, De Kooning is right there in terms of abstract expressionism. Even though Jackson probably had the prime spot in terms of obliterating subject matter, De Kooning had so much presence, and Rauschenberg would have been this younger artist with a really radical relationship to the abstract expressionists.
Did you tell Hirst you were going to do it?
No, this was a really removed process. The Rauschenberg story is that he goes to the studio and asks William if he can erase one of his works. If you look closely [at Erased Hirst] you can see the dots. They're just in the background.
Did you ride it yourself to get rid of the dots?
Oh yeah, that was part of the fun.
In London?
Yeah, and in Sydney as well. It took me a while to get all the dots off. It's a bit of an effort. I had to really go for it. It's similar to the Rauschenberg erasing De Kooning. You can still see a ghost image. There's still an indelible trace, even to the point where it's the pressure of the pencil or the mark was kind of indented into the paper for De Kooning.
Elizabeth Fortescue, January 26, 2012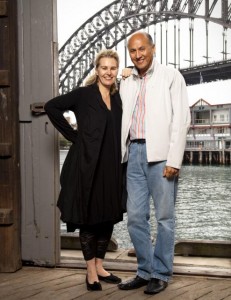 Today [February 29, 2012] I attended the official unveiling of the program for the Biennale of Sydney 2012 at the Art Gallery of NSW. It left me with the feeling that this could be a Biennale that speaks softly. It won't yell or have a tantrum. It won't try to attract your attention with empty provocation.
The two artistic directors are Gerald McMaster and Catherine de Zegher. McMaster spoke at length about the artists and about the Biennale theme, which is All Our Relations. His collaborator de Zegher was attending to a family matter in Belgium.
So here are the bare facts as outlined by McMaster:
* More than 100 artists from around the world will exhibit
* The main venues will be the Art Gallery of NSW, the Museum of Contemporary Art, Pier 2/3 at Walsh Bay, and Cockatoo Island in Sydney Harbour
* CarriageWorks will be a "presenting partner", hosting the premiere of some new dance works
Gerald McMaster said the works to be on show would "delight our senses", rather than being "critical".
"Throughout the Biennale, audiences should begin to empathise in various ways where they will engage," he said. "These engagements will move us much closer to bringing about change in our world, in much more concrete ways, where we begin to understand that indeed we are all connected. For some of you  who do know this phrase [All Our Relations] it's been inspired by a number of indigenous peoples around the world who at the beginning of their invocation usually say 'to all our relations'. Basically it talks about how we are interconnected. So, inspired by this, we titled the exhibition. Throughout the life of the exhibition we hope that audiences will make such connections… and ultimately be much more aware of our interconnections and what this world is about."
Works mentioned by McMaster at the press conference included:
City of Ghost, by Nipan Oranniwesner, from Thailand : "A composite aerial view of different international cities. It's laid out on the gallery floor, and there are composite cut-outs and the artist takes baby powder and gently lays it over the top. This idea almost suggests the way that cities have achieved an unidentifiable sameness. Fortunately Sydney still has its own distinct identity."
Do you remember when? by Postcommodity: "a work that was previously shown in Arizona. Connecting the earth and sky in an axis mundi. It will cut a hole in the gallery floor. I think it is a first since the beginning the building. Normally architects do that. In this case the artists will be doing that. We will be exposing the earth beneath the floor." This will happen in Yiribana, downstairs in the AGNSW. "Postcommodity describes this hole, this portal as the point of transformation between worlds from which emerges two different discourses, … a relationship between indigenous and western world views, and a discussion about sustainability".
Park Young-Suk and Yeesukyung: "Youngsuk is one of Korea's national treasures who has devoted her entire career to perfecting the classic moon jar. They are particularly challenging to make, with the upper torso usually much fuller than the lower half, and the rim is usually wider than the base, making it extremely vulnerable to collapsing in the kiln. So from time to time she will see what she calls obvious failures. Yeesukyung's work … takes pottery shards and recombines them into some very interesting forms, almost Baroque-like sculptures. The moon jar project brings the two artists together." A film which documents the collaboration will also be played.
Nyapanyapa Yunupingu: "She will do a light series called Light Paintings. She took 110 drawings she did on acetate using a light pen and these clear acetates have been used as a slow dissolve. She is one of seven indigenous Australian artists in the exhibition. [There are 19 Australian artists in total in the Biennale].
Pinaree Sanpitak: Anything Can Break. "One of Thailand's few internationally recognised female artists. Made up of hundreds of Origami cubes and glass clouds suspended from the ceiling, illuminated with fibre optics. They are lined with motion censors. They will trigger music and response to the audience's movements.
Tiffany Singh, Knock on the sky listen to the sound: "It's from a Buddhist proverb she heard while travelling into the Himalayas in her pilgrimage to a Tibetan monastery." Wind chimes are meant to be good luck. Audiences will take the wind chimes from the space, take them home, perhaps decorate them, then be asked to bring them to Cockatoo Island where they will be displayed in some of the island's trees.
Khadija Baker: On the ferry to Cockatoo Island, the 15 minute ride will be enlivened by performative pieces by the artist Khadija Baker, a Kurd by birth who lives in Montreal. People pick up one of her very long plaits and listen to a story of her commnity back in the Kurd region. "In doing so,  in listening – as we're hoping with many works in the Biennale – you begin to empathise with the artist, in this case almost becoming one wth the other as we now engage with her and actually listen to a strand of her hair."
As you are nearing Cockatoo Island, you may be able to see fog emanating from it. "This is the work of  Fujiko Nakaya [her work was installed 1978 at the NGA and she was in the 1976 Sydney Biennale. Her sculpture will cascade down from the top of a hill into the chasm between the rock and the turbine hall.]
In the dog-leg tunnel will be a work by Dutch artist Damien Roosegaarde. "Roosegaarde is one of the leading interactive landscape artists today. By touching, by singing, by dancing, the piece Dune will interact with you. It will play with you. Find an opportunity to get along and see what it does."
Jonathon Jones presents a midden made from oyster shells and English teacups. Also his fluorescent tubes, which is inspired by his pet eels. "He has a large aquarium and every day he delights in their actions. And so he was inspired to do this piece."
McMaster concluded by saying All Our Relations is "a direct response to the state of the world".
"Please take the time to understand how the artists make us understand and be aware of our emotional responses, how they provoke us to ask new questions, and how they make us see the world around us much differently," he said.
Elizabeth Fortescue, April 1, 2012
The Art Gallery of NSW has announced that Dr Michael Brand will take up the reins as the gallery's director in mid 2012. Dr Brand replaces Edmund Capon, who retired as director in December 2011 after leading the gallery for an astonishing 33 years.
I interviewed Dr Brand about his appointment on the mornng of the announcement, by phone to Geneva. This is the edited transcript.
At the time you accepted this position, the National Gallery of Victoria was also seeking a new director. For you, was it a toss-up between the two positions?
It's obviously a matter of interest when there are two positions available. I just make a point of not talking about other people's searches. Speaking to Steven Lowy [president of the AGNSW board of trustees] and the board of trustees, it's clear the AGNSW is in a really interesting and good position. It's had a tremendously stable and creative leadership from Edmund Capon, very dedicated staff, public support and a very creative and focused board. They are looking for a genuine artistic director, and they are totally committed to scholarship. That's a great place to be. We can build on success.
The J. Paul Getty Museum in Los Angeles disclosed your income when you were director there [US$900,000]. Did you have to take a pay cut to come back to Australia?
Yes, there's a pay cut involved [Dr Brand will receive $445,000 per annum, which is about $200,000 more than Edmund Capon received. Dr Brand went on to explain that he didn't see his career in terms of a "remuneration trajectory". Rather, he was excited about living in Sydney and bringing up his family here.]
What can you say about your plans for the AGNSW?
It's a little bit early for me to say anything. I need to get to Sydney, talk to colleagues there, and think about it in more depth. There is a plan in process which has recently begun, they're thinking about the future. I need to join that process. The good thing is it's a very well run institution, very popular. I don't mean popular in a light way. Museums are meant to be popular, and people do go there. In the short term it's a little bit of fine tuning. There are issues with staff. There are a number of members of staff who are probably approaching retirement. It's thinking about those issues. Then there's the exhibition planning, acquisitions, and longterm strategic planning. One of the reasons I'm so pleased to be going there is it is a dynamic organisation. It's continued to make great strides forward. The Kaldor gift recently is of huge significance, and in a way the gallery has to digest that gift and see what it means. I suspect one of the things it means is the gallery, perhaps more than any other gallery in Australia, is poised with contemporary art to go totally global. That collection [the Kaldor gift] allows you to look at Australian art, North American art, European art and Asian contemporary art together. Perhaps we might, for example, look a bit more closely at contemporary art from the Islamic world. We may look at Central America or Latin America. If you're going to deal with the Asian Pacific region, you can't forget the Americas.
They [the staff of the AGNSW] are adventurous, they're gutsy. They've generated most of their major exhibitions. They'll do a major exhibition on abstraction [Paths to Abstraction]. That takes courage.
How do you see the role of the AGNSW and the [Sydney] Museum of Contemporary Art?
Like everyone else I have huge respect for [MCA director] Liz Ann Macgregor. I'm really looking forward to working with her. There are many ways we can collaborate. But in the field of contemporary art, a little bit of friendly competition isn't a bad thing. It's really good for a city to have more than one institution dealing with contemporary art [to provide different viewpoints].
Have you ever lived in Sydney?
No. I've lived in Canberra, Brisbane and Melbourne. I know [Sydney] moderately well. That's very exciting in itself.
Do you like the beach?
I do love the beach; I almost never get there these days. And thanks for mentioning the beach. I'm sitting here in Geneva, and I'm about to go back to freezing Toronto.
Elizabeth Fortescue, February 12, 2012
Dr Michael Brand has been appointed the new director of the Art Gallery of NSW
Read the official announcement here.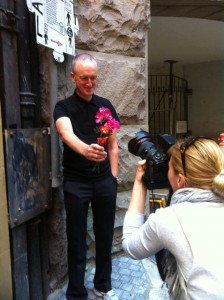 Michael Landy is the English artist who, in 2001, created an assembly line whose sole function and purpose was to help Landy destroy every single possession he had at that moment in his life. His clothes, his papers, his passbook, his books, even his car. Everything Landy owned, everything that bound him to the consumer society he lived in, was destroyed and granulated, bagged up and sent to landfill.
Landy was left with just one thing — an enormous debt. Destroying his possessions, with the help of 10 people on the assembly line, had cost him 100,000 pounds.
The act of destruction was an artwork that Landy called Break Down. It took place in a premises in Oxford Street, London, and attracted an enormous amount of publicity. And why not? Who was this guy, this odd-ball? Who would want to trash every little thing, leaving themselves only with the clothes they stood up in?
As we now know, it was Michael Landy, born in 1963, and a Young British Artist along with Damien Hirst, Rachel Whiteread (Landy's partner), Tracey Emin and others.
Landy isn't as famous as Damien Hirst. But his ideas have more meat. In Break Down he rejected consumerism and conformity, and inquired into how the ownership of objects was one thing that characterised human beings. In his 2011 artwork for Sydney, organised as part of the Art and About program, Landy went a step further. He postulated the idea of the big city as the cradle for small acts of kindness, little things done by passers-by for other passers-by. People who would probably never meet again, people who were unlikely even to stop for thanks. People who keep a metropolis grounded.
So it was that I connected with Michael Landy one sunny morning in September 2011, shortly after he flew in to help instal his work, Acts of Kindness, Kaldor Public Art Project #24.
I alighted from the train at Wynyard Station and walked to Martin Place to rendezvous with Michael Landy. On the way, the bright colours of a fresh flower stand caught me eye, and I bought a bunch for Landy. We met near the Anzac Memorial in Martin Place, where part of Acts of Kindness was to be installed. I proffered my little bunch of freesias, and said "you know what these are, don't you?". Landy looked a little puzzled. "They're an act of kindness," I said. Landy beamed.
Here's an edited transcription of what he said that morning. Other comments were from an earlier telephone interview I had done with Landy, and also from a presentation he gave at the Sydney College of the Arts as part of his visit for Acts of Kindness.
First, a short explanation of Acts of Kindness. Landy had gleaned from the Sydney public about 200 stories of acts of kindness done within the Sydney CBD. Landy created a huge, hand-drawn map of Sydney with the locations of the acts of kindness marked. It was then up to the public to go to those locations and find the giant jigsaw pieces on which the stories were written. Alternatively, people could just come across the jigsaw pieces as they walked through the city.
Can you tell me one or two of the acts of kindness stories you collected?
There was one where there's this young girl sobbing and a couple come across her and take her out for something to eat and put her in a cab and send her home, so that's very nice. There's a similar story to that where a child is running along and falls over and maybe hurts her knee and a shopkeeper comes along and gives her some strawberries.
When did you meet John Kaldor?
[In 2001 when Kaldor came to see Break Down in London.] That's the first time I met John. He just knocked on the door at 8 o'clock in the morning and the security guard didn't want to let him in, but I was slightly intrigued, so I let him in and we had a quick chat and he said he'd come back later on, which he did. He came back and gave me some catalogues, so of course I had to destroy them because they became my possessions.
After you destroyed all your possessions, did you amass them all again?
I've got a lot less. It was at the age of 37. I was like a happy consumer, consuming things without any real issues about it. But once you destroy everything, you have a slightly different idea. Because you had a biography and a past, so your relationship with objects is different than it was before. Possessing things is a very human characteristic.
An edited transcript of the Sydney College of the Arts presentation:
Landy went to Goldsmiths College between 1985 and 1988 where he and Damien Hirst and other artists had a "harmonious but quite competitive relationship". The course was unstructured, and you could do anything. "I could wander round in a circle with pig's trotters hanging off me if I wanted to. Craig Martin our teacher said he had waited for people like us to come for years."
Hirst organised 16 people, including Landy, to do a show. "In 1988 it was still the case that you did your time and some day someone would give you a show. We decided to do it ourselves. We didn't need the commercial art scene because there wasn't much of one. If there was one they were all interested in older artists, they weren't interested in us."
During the prime ministership of Margaret Thatcher, Landy set up a fictitous company called Scrapheap Services, for getting rid of people with no role in life. "I felt like that myself. I had left my gallery, so I didn't have a gallery. The world makes sense of you because of your gallery and once you haven't got one …"
Doing Break Down was the happiest two weeks of Landy's life. "We had 50,000 people come to see it in two weeks."
In 2004, Landy made Semi-Detached, a reproduction inside Tate Britain of his father's home. "My dad was an Irish tunnel miner. Had an industrial accident back in about 1975. He remembers being basically buried alive. The tunnel fell on top of him. He remembers seeing the root system of trees. He had serious spinal injuries. That was in Northumberland. Basically that's a portrait of him. The only jobs he can do now are jobs around the house. So this looks like a model but it's a full scale version of our house in Essex.
"I haven't talked about drawing, but that's most of my practice really. My father remembers me drawing as a child."
Landy said he is interested in rubbish, and in 2010 he created a work called Art Bin, a transparent skip into which people were invited to throw artworks they were dissatisfied with.
"In Britain you can destroy an artwork but you can't deface it. I created a huge bin. People put in their own failed artworks. I am interested in rubbish as well. You could walk up the steps and throw your work in." Hirst threw in an artwork, which people attempted to retrieve.
"After Break Down, I thought about what makes us human. I wanted to investigate that. I am interested in everyday acts of kindness. My favourite stories are where you have had a really bad day and someone smiles or makes a little paper sculpture and drops it in your lap. I wanted to celebrate those acts."
Elizabeth Fortescue, January 13, 2012