Elizabeth Fortescue
Elizabeth Fortescue is the visual arts writer for the Daily Telegraph, Sydney, and Australian correspondent for The Art Newspaper, London
Homepage: http://www.artwriter.com.au
Posts by Elizabeth Fortescue
Artwriter was sad to learn of the recent death by snake-bite of Smudge, the little terrier which featured as one of the psychological trappings in Tim Storrier's Archibald Prize-winning self portrait from 2012. The painting is titled The histrionic wayfarer (after Bosch).
Smudge was much loved by Storrier, who appreciated the dog's lack of critical opinion in relation to his master's work.
The dog accompanied Storrier faithfully in the studio, and was even allowed inside the Art Gallery of NSW for the gala announcement of the Archibald Prize when Storrier won.
According to Storrier's wife Janet, it wasn't the first time Smudge had been bitten by a snake. This time, it was fatal.
Knowing how much her husband would miss the dog, Janet had the animal stuffed. Janet sent me this picture of Smudge, who looks just as she did at the Archibald when she trotted nonchalantly into the AGNSW on the end of a horse's lead-rein.
"Yes, it was so sad poor Smudge got bitten by a snake again and died," Janet wrote to me.
"And photographed here (see below) with her is Trigger, Tim's current companion who has had two snake bites this year, 10 days apart, which cost a fortune at the Bathurst vet who loves us!"
Here is Trigger, circling Smudge.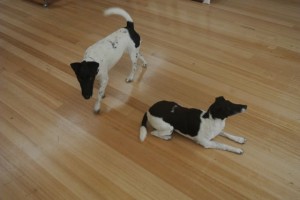 And here's another one. Judging by Trigger's tail, he's trying to make friends with Smudge.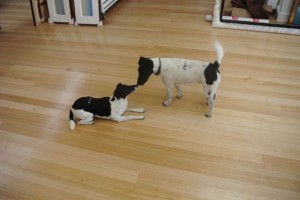 Here is Smudge in pride of place in her master's studio: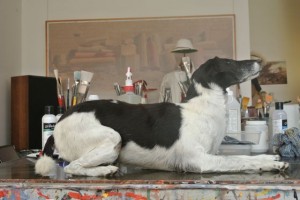 And, finally, here is the painting in which Smudge appeared: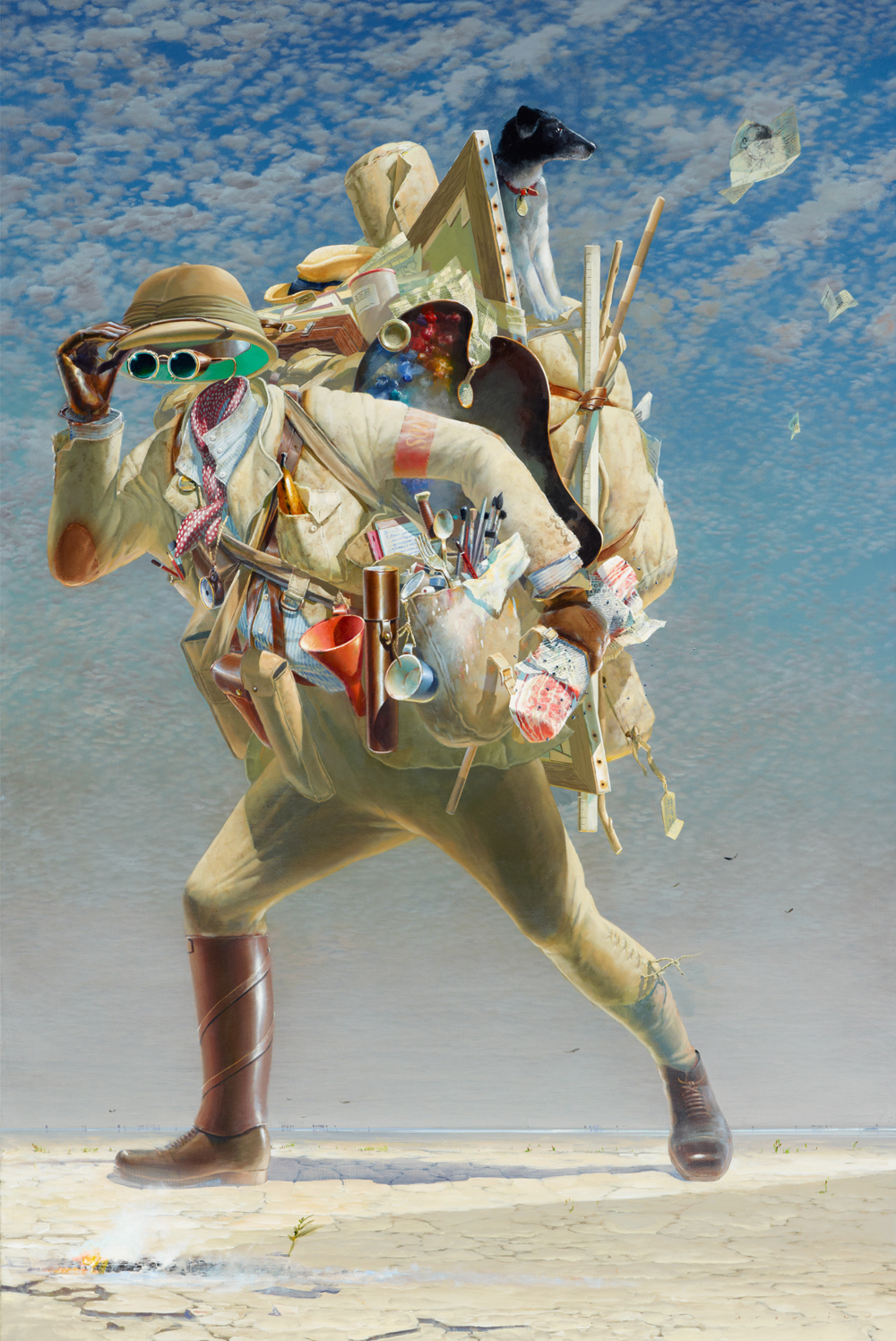 Hard-core dog lovers can read my original account of Smudge's big day out at the Archibald in an earlier post on this website.
Elizabeth Fortescue, April 29, 2013
Last year I asked the wonderful Sydney artist
Nicholas Harding
if I could "follow" him on his Parisian trip by sending him questions and publishing his answers on my
Artwriter
website.
To my delight, Harding readily agreed.
Here is our exchange:
Elizabeth: Hi Nicholas, How long are you in Paris for, and what are you doing over there?
Nicholas
: In Paris for 3 months. 2 months as an AGNSW artist-in-residence in the Moya Dyring Studio at the
Cité Internationale des Arts
and one month in an apartment in the 1st arrondisement, with side-trips to New York for a week (first ever visit!), 5 days visiting Albi for the
Toulouse-Lautrec museum
, Vence for the
Matisse Chapel
and Saint-Paul de Vence for the
Maeght Foundation
. I'm basically 'feeding my head', looking at wonderful things, drawing from works in art museums, sitting in cafes and drawing people.
Since returning from a visit to London a week ago I have been getting sitters into the studio for portrait studies in watercolour and gouache. Have to work quickly – they take about 3 hours to do. The corner aspect of the studio on the 2nd floor provides a wonderful light and outlook. The room's ambiance is a fabulous catalyst for these sessions. More sitters are booked in this week.
I've enjoyed meeting up with other Australian artists staying in Paris. Paul Davies and his wife Sarah have just finished a 3 month stay here at the Cité; they sat to me last week (apparently the correct expression is 'sit to' rather than 'sit for', I was told recently).
Ann Thomson
is on one of her regular visits to Paris and staying in Montmartre; we've been out drawing, shopping for art supplies and swimming at the
Piscine Pontoise
together. Anna Herold Pola from Sydney and Amanda Shone from Hobart are in the Cité at present.
I don't want to be too prescriptive about what happens here. Its true effect will occur in time.
Elizabeth: You just went for a side-trip to London. What are you planning to see and do there?
Nicholas
: The Manet exhibition at the Royal Academy
'Portraying Life'
was very instructive. Some have been disappointed, apparently, by the number of unfinished works never exhibited in his lifetime on show but these are very revealing of his process and drawing with paint to construct and 'find' the image. And 'The Luncheon' alone is worth the visit. My advice to anyone going is to go late in the day as the crowds have largely gone by 5pm and almost entirely gone by 5.30 which gives you an all but empty gallery to peruse until closing at 6.
The
'Becoming Picasso' at the Courtauld
is magnificent. Arriving in Paris with several weeks to paint work for his first exhibition with
Vollard
in 1901, Picasso painted about 60 things and these 18 works are a selection of these. And all done at the age of 19! Brilliant.
'Schwitters in Britain' at Tate Britain
had a number of unexpected, and excellent, naturalist oil paintings; portraits and landscapes. The exhibition consists mostly of his abstract collages, and the sculptures are delightful.
And many lunches and dinners catching up with friends!
Elizabeth: Have you been to Paris before?
Nicholas: Yes. Was last in Paris in November 2011. My first visit was in 1977 where the work of many painters I love first had a real and lasting effect on me. And another visit in 1997.
Thanks so much to Nicholas Harding for this peek into his travels and adventures. I'll bring you more information as he continues on his way.
Elizabeth Fortescue, April 1, 2013
If you were on Cockatoo Island for the Biennale of Sydney in 2010, you would have seen the extraordinary, gleaming piece of video art by the Russian artist collective known as AES+F. Titled The Feast of Trimalchio, the video was projected onto a 360-degree circular screen and was mesmerising and seductive, marked by some of the grand excesses of a 1950s Hollywood extravaganza about the Bible, complete with Charlton Heston in sandals and leather cuirass.
Last week I interviewed Tatiana Arzamasova, the A from AES+F, at Anna Schwartz Gallery in Carriageworks, Sydney. Arzamasova was in Sydney to represent the rest of AES+F at the opening of their latest exhibition, titled Angels-Demons. I was doing a story for the Daily Telegraph, and you can read it here.
Angels-Demons comprises seven black, fibreglass statues resting on individual bright red plinths. Each statue depicts a huge baby either standing, sitting or crawling on all fours. The first thing that hits you is their gorgeous patina, a dazzlingly reflective surface which really does look quite devilish. Each baby sports a demonic tail, and several have nascent, webbed wings a bit like those of a fruit bat.
While these bouncing babies stand around two metres tall, they are based on AES+F's original babies which were six metres tall. They premiered in 2009 in Lille3000, the French arts festival, where they were located outside.
Last week, Tatiana Arzamasova fussed over the seven babies at Anna Schwartz, getting their location within the gallery space just to her satisfaction. This involved much discussion with gallery owner Schwartz, and the going out and coming back in of both women in order to see each new placement with a fresh eye before deciding whether the arrangement was satisfactory.
Arzamasova directed a very patient young man with a hand-operated forklift device, who was shuttling the sculptures around on wooden palettes.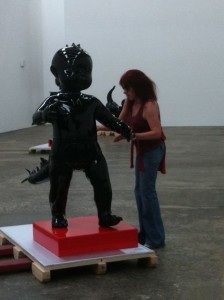 Once she was happy with the lay-out of the babies, Arzamasova and I went outside the gallery so she could smoke her ultra-thin Russian cigarettes while we talked. I mentioned that the babies and their anachronistically devilish features reminded me of the film Rosemary's Baby, where Mia Farrow's first-born is fathered by the Devil, and also the film Gremlins, where cute little furry critters turn out to be really very evil.
Arzamasova agreed.
"We love to play with cinema images and it has a lot of links to babies by Stanley Kubrik," she said.
"First of all we created the concept that it will be not dangerous and not demons; that it will be babies without any European roots, without gender and with both symbols of goodness like wings and with the tails, in just one [body].
"They will grow up and the nature will take over. Because it's really difficult to recognise the goodness and the evil especially when it's symbols as image of a baby. It's much more mystical and unpredictable than just an adult person."
I asked whether she and the others in AES+F were standing by, wondering whether the world's future were to be hopeful or bleak?
Arzamasova shrugs: "Like everybody," she says.
"We just talk about the future in general. When we did the concept and first drawing, we talked about the idea of childish apocalypse."
AES+F comprises Arzamasova and her husband Lev Evzovich, plus Evgeny Svyatsky and Vladimir Fridkes. The four artists, whose backgrounds encompass architecture and fashion photography among other disciplines, all gained a traditional grounding in the foundations of art in the Soviet era.
"Denis Diderot said, 'don't believe the architect who can't draw," Arzamasova said with a deep chuckle.
The way Arzamasova described it, the four work together every day in their shared studio in Moscow. Yes, they sometimes disagree on an artistic decision. But they work their way through their differences in order to collaborate in a very close way.
"We work as one artist with four bodies," she said.
What about when they disagree? "Normally it's a standard scandal. It's true," Arzamasova said, laughing. "And if you want to explain your position you should be tolerated. Normally sometimes we are really tough to each other, but it's never going to destroy the group."
Art Gallery of South Australia director Nick Mitzevich, who said he is "obsessed" with AES+F and has commissioned work by them, has been to their Moscow studio.
"It's quite modest," Mitzevich said. "It's in one of those big high-rise buildings way out in the suburbs. It's like the Communist state's art studios. It's full of lots of creative people. You catch this rickety lift up to their floor and it's this very modest studio space. Their studio is full of Mac computers with huge screens. Lots of print outs and digital images. Tatiana and Lev's family works on the production. There's a sense of family that supports them. Their son supervises all their production."
The studio is near the Vorobyovy Hills, the site of the last flight of the devil from Moscow in Mikhael Bulgakov's novel, The Master and Margarita, Arzamasova said.
And speaking of the devil, the babies' tails are a sign of our link to nature, Arzamasova said. "It's also a sign of embryo development, because in development we are jumping all steps — to be fish, to be snake."
Mitzevich said the AGSA purchased AES+F's film work, Allegoria Sacra, last year. The work is currently on view at the gallery.
"I viewed the work half finished about a year and a half ago in Venice," Mitzevich said. "We committed to buying the work and it made it possible for them to finish the work. These undertakings [of AES+F] are massive productions. This work was a really important work for us. It covers so many bases which our collection reveals. So many wonderful references to the chaos of the world we live in. And the work references the history of art and European religious art. We are very strong in both. It continues their obsession with mining the history of art and imagery. It's a very important addition to the contemporary collection."
A demon-baby appears in Allegoria Sacra, very similar to the ones now on view at Anna Schwartz. "They [AES+F] have worked in this form before," Mitzevich said. "They continually go back to similar themes but they extract new ways of looking at things. This work [Angels-Demons] continues their complete irony and wit in their work. It's a critique of the world we live in and it's sometimes a bleak future, but it's the irony and wit that gives it such a great currency and seduction.
"They are the first to admit that seducing the audience is something that's important to them. They want to communicate their message to a wide audience."
Elizabeth Fortescue, February 18, 2013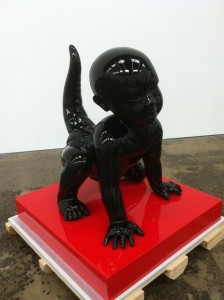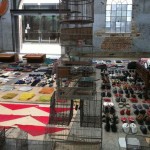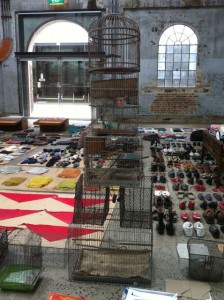 Last week I visited the Song Dong exhibition, Waste Not, about which I have written previously (see my earlier post) and took some photographs which show the detail of this wonderful Chinese artist's installation at Carriageworks, Sydney.
It is strangely moving to walk quietly between the carefully laid-out groupings of hoarded objects, almost a sense of respect such as you might feel upon entering the home of a person who has just died.
A gallery staff member approached me to ask whether I liked the installation, and I told her I found it compelling. She told me something interesting. She said it was her own habit to throw things away rather than hoard them like Song Dong's mother.  When she told the artist that she never kept anything, he had looked at her sympathetically, sad for her that when she died her loved ones would be denied the chance to re-find her by sorting through the objects which had accompanied her through life.
I took these pictures, fascinated by the scale and detail of the work. I particularly like the picture at left, which shows a very sculptural stack of old wire bird cages.
The Japanese believe that objects take on a spirituality or presence, and this is far from alien to the western experience. If you want an example of this close to home, you have only to think of the recreation of a corner of Margaret Olley's Paddington home at the Tweed River Art Gallery. The project, which you can read about if you click through, is a painstaking reconstruction of the artily cluttered environment in which Olley lived and by which she was continually inspired. To Olley, the vases of dying flowers were just as valuable as the vases of fresh ones. Perhaps Olley would have found much to interest her in Song Dong's beautiful, empathetic art work. I like to imagine Olley and Song Dong's mother together, conversing about their lives and the objects they loved.
Waste Not is on until March 17.
Elizabeth Fortescue, February 18, 2013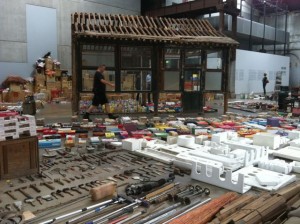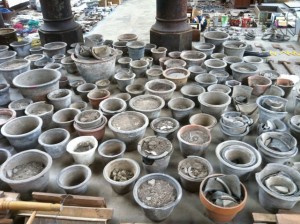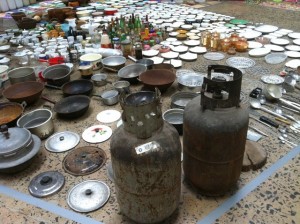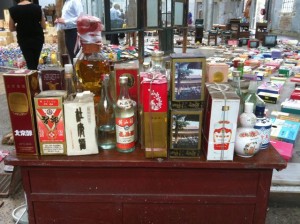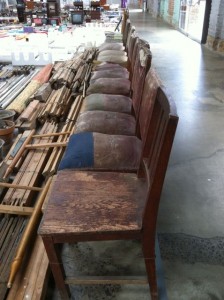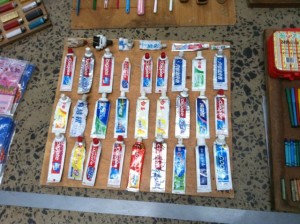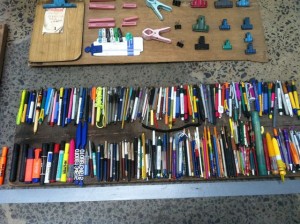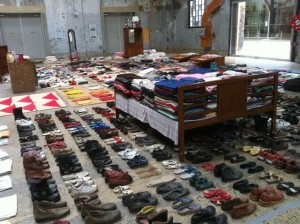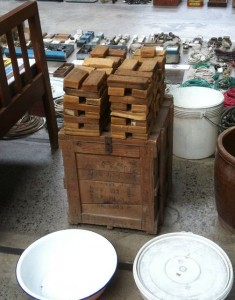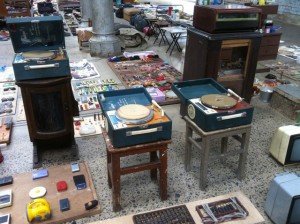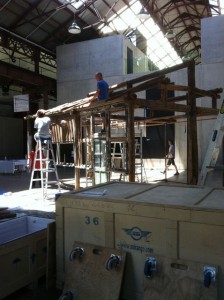 A few weeks ago, Chinese artist Song Dong arrived in Sydney prior to installing his Waste Not project in Carriageworks, Eveleigh, as part of the Sydney Festival 2013. He was also preparing for his wider exhibition at the 4A Centre for Contemporary Asian Art in Sydney. I met the artist shortly after he arrived at Carriageworks, and had many questions concerning what I thought was a fascinating project.
Song Dong turned out to be a quiet and self-effacing person. But he was also engaging, and very keen to discuss the intricacies of the project.
A short preamble: Waste Not (or Wu Jin Qi Yong in Chinese) is a remarkable artwork which constitutes an actual bedroom and living area of his mother's tiny Beijing home as well as more than 10,000 individual domestic objects which she kept, some of them for up to 50 years.
The modest little home still exists, minus the small section which was demolished because it failed to reach safety standards. The house is in Banshang Hutong, a tiny street where traditional daily life still bustles on virtually in the shadow of "new" Beijing's high-rises.
Waste Not includes chairs and tables (some broken), fabrics, two old beds, wardrobes full of second hand clothes, hundreds of kitchen utensils from mis-matched sets, hundreds of old shoes, toys, electrical wires, enamel basins, plastic buckets, string, old magazines, lamps, clocks, telephones, record players, empty toothpaste tubes, bottles, bottle caps, fast food containers, hard soap bars, shopping bags, moon cake boxes, tea boxes, yarn, radiators, blankets, bird cages, old television sets.
Song Dong's mother, Zhao Xiangyuan, saved all these things from the 1950s to 2005. To understand why, you need to know her story.
Zhao Xiangyuan was born in 1938 in Taoyuan, Hunan province into a prosperous family. But in 1953, her father was declared a spy. He was arrested and jailed. The family's circumstances changed dramatically.
Zhao Xiangyuan and her mother struggled. They lived in a tiny home in hardship and poverty. Zhao Xiangyuan sewed buttonholes and glued paper bags for department stores.
Zhao Xiangyuan married, and her son Song Dong was born in 1966. Life was hard, and the young family lived in a single room. Zhao Xiangyuan began to hoard items like soap, which was rationed.
In 2002, Zhao Xiangyuan's husband Shiping died suddenly. After that, she couldn't bear to part with objects which reminded her of her past domestic life.
The life of privation which gave rise to the Chinese proverb "waste not" affected an entire generation, but is little understood by the young people of modern China, for whom consumerism and commerce are a way of life.
After Zhao Xiangyuan suffered a nervous breakdown and refused to part with any of her hoarded objects, Song Dong devised a way of helping her out of her silent grief. He decided he would create an artwork in which his mother would be the true artist and he would be her assistant. That work was Waste Not. He would rebuild a corner of his mother's home and offer her the chance to sort through all her belongings. He called it "organising her memories". As she sorted, she discussed all the items and their histories. Finally, the sorted items were exhibited for the first time in 2005 in Beijing.
At that time, Song Dong's mother said to him: "You see that keeping [all the objects] was useful!"
When the work was put on show, Zhao Xiangyuan was on hand to discuss her life with visitors. The older ones among them would have identified completely with her frugality, having also lived through hard years when no one ever threw anything away. Anything, they would say, could come in useful some day. Discussing all these things brought Zhao Xiangyuan out of her shell. It had exactly the effect  for which Song Dong had hoped.
The artwork became a true family affair. Song Dong's sister Song Hui is also involved, and was there the day I interviewed her brother at Carriageworks. She is the project archivist.
Song Dong's wife Yin Xiuzhen (an artist) and their daughter Song Errui (aged 10) were due to arrive the following week to work on the installation of the work. Song Dong told me that he talks to his daughter about the objects as they arrange them together, so she learns about her family history that way.
Zhao Xiangyuan, sadly, is not able to help with the Sydney presentation of the project. She died in January 2009. Her family, however, is carrying on without her. I have read an interview in which Song Dong declares that his mother was the one who deserved the prize which the work won at the Gwangju Biennale, because "she has used her entire life to create this work".
Waste Not has already been seen in New York, Korea, Germany, England and Berlin.
Here is my interview with Song Dong, carried out on December 13, 2012.
Song Dong: This is a part of our home. We have six rooms but this is two rooms. Our family moved many places. In China we can't have our real own house. This is a very traditional (house).
He said the house would be more than a century old and many families would have inhabited it.
We rented the house. Every house belong to the government. Now we can buy the home. But only the house, the land is the government's. My mother also lived inside, for two or three years. Because the government said too old, very dangerous. You should take down. So I built the new house there but my mother said don't throw away anything. I said where I can put? She said you can use them to build a new house because the wood is still good.
Since 2002 my father suddenly passed away. My mother silent. Just cry. Don't talk with other people. I can't do. I can't help her. So I send my mother to the south of China with my sister while we organised her home. We think she happy with organised home but she was really angry. Why do you throw my things away? The whole night I can't sleep. I asked her why [did she get angry]. She said your father is gone. I afraid of empty room. I need the object to fill and cover memory so I can feel your father still there. That really touched me. I thought I will give my mother a job. Let her organise things. I said we will keep all of them. The job is to put the same thing together. For example the shoes. I want her to know how many shoes you have. How many things you have.
His mother had misgivings that people would think she was messy, but her son encouraged her.
I said when we show this work, I will be famous. Because before I did a lot of work with my father. It will be shown in 4A.  All the work is working with my family. Because they can do everything for me.
Now I am really sad to throw away. [He wishes he hadn't thrown away a lot of old used tea-leaves, which his mother used to keep in case she wanted to stuff a pillow with them].
That's the old generation. But the young generation they throw away anything. They just want to use everything now.  Mobile phone. The whole society wastes a lot. It's not a good thing for our life. This project shows people to think what can we use again.
His mother died in 2009.
This project is not a still show. It's a develop show. When my mother alive I work with her each time doing the exhibition and she note down a lot of the story of each [object]. We make the archive.
In the beginning it was really hard for my family. I cry every day.
In that work, my mother and father never pass away. I think they are living in art.
Each time [the work is installed] is different because I will reshape the space. [There are parts for the parents, the grandparents and his own children.]
My wife also artist. She help us to do the image archive. One by one every object will take the photo. Maybe in the future we will make a website of it.
I looked up about the Beijing hutongs on-line, and found they are the historic heart of Beijing. They are higgledy piggledy little lanes and alleys, full of old charm. From the sky, they are an unbroken plateau of tiny rooftops. They are under threat of redevelopment, but those who fight for the hutongs are very passionate about them, describing them as the culture of Beijing itself.
After my interview with Song Dong, I noticed this poster on a pole outside Carriageworks. The story continues.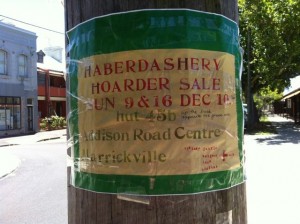 Elizabeth Fortescue, December 29, 2012