Elizabeth Fortescue
Elizabeth Fortescue is the visual arts writer for the Daily Telegraph, Sydney, and Australian correspondent for The Art Newspaper, London
Homepage: http://www.artwriter.com.au
Posts by Elizabeth Fortescue
I found Joanna Braithwaite's entry to this year's Portia Geach Memorial Award at the S.H. Ervin Gallery absolutely irresistible. Titled Canine Council – self portrait with dogs in art, it shows Braithwaite almost completely engulfed by dogs of all shapes and sizes.
I looked for Braithwaite's beloved black pug, Brains, and sure enough he's there. See if you can spot him.
Joanna has this to say about this work:
"This painting is a self portrait in which I have surrounded myself with dogs taken from a variety of paintings across art history. As a dedicated painter of animals I have long been fascinated by the way other artists depict them in their paintings – in particular dogs. Often dogs are not the main subject, but are sitting quietly in a corner or beside the main focus of the painting. In portraiture their presence is often symbolic and sometimes reflects the values and status of the owners. I observed that dogs are not always given the same attention to detail and correctness as the main sitter and therefore can sometimes be anatomically odd and quite unrealistic. It was this very strangeness that attracted me to search paintings for dogs of interest when last I visited major galleries overseas. In this portrait I include dogs extracted from the works of many different artists such as Jan Van Eyck
The betrothal of the Arnolfini
, and Hogarth's
Self Portrait with Pug-dog
. Some images are derived from naive paintings and early engravings of dogs and some from paintings by artists like George Stubbs who painted the pets of wealthy patrons."
Below are a couple of close-ups from the painting.
Elizabeth Fortescue, September 29, 2010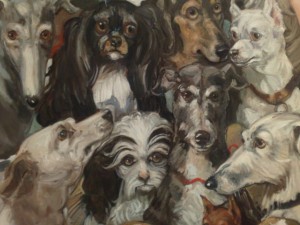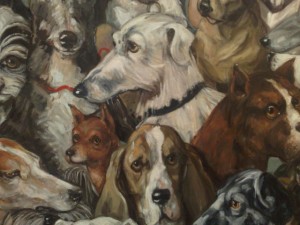 Artist Janine Mackintosh has won the People's Choice award in this year's Blake Prize for the religious and spiritual in art.
The work is titled Above and Beyond, and is made of gum leaves.
There's not much time left to see the Blake, which closes on Saturday (October 2) at the National Art School Gallery in Darlinghurst. It then goes on tour.
Elizabeth Fortescue, September 29, 2010
You could call Paul Connor the kayaking artist of Sydney Harbour. I interviewed Paul this week at his Balmain home and we walked down to the waterfront at Mort Bay where he launched his kayak. Strapped to the bow of his kayak is small wooden box containing a basic painting kit including gouaches and brushes.
Living close to Mort Bay and loving to paint en plein air (he established the NSW Parliament Plein Air Painting Prize a couple of years ago), Paul regularly shoulders his kayak and pops it in the water just near the old Colgate factory which is now a very up-market apartment block.
I would like to share with you the photos I took that day, of Paul launching his little boat and being photographed by Katrina Tepper, the Daily Telegraph photographer with whom I was covering the story that day.
Paul's paintings, full of light and atmosphere, are on view at the Depot Gallery in Danks St, Waterloo, until October 2.
I enjoy Paul's paintings because they are full of the joy he has in exploring the tiny inlets of Sydney's inner harbour. They celebrate the tug boats and slipways, the slop of the water against the sea wall, the oyster-encrusted wharf pylons and (as in the image above) the old Manly ferry, the Baragoola.
There is a touch of Huckleberry Finn about these paintings. And about Paul, too, I suspect.
Elizabeth Fortescue, September 28, 2010
This image (above) is not of Sydney Harbour, but it is beautiful and it is in the exhibition, as well. It is called Dordogne Reconstructed.
This is a picture of Cathy Weiszmann which I took at Kerrie Lowe Gallery in Newtown this month. I met Cathy while doing a story on her for the Daily Telegraph, Sydney. The story appeared in the paper on September 20. Her exhibition is on until October 5.
Actually, if you're sporty, you'll probably know Cathy's work already. Cathy was commissioned to create life-sized sculptures of various sporting greats for the Sydney Cricket Ground, and elsewhere.
In this exhibition, however, we see Cathy's more personal work. It springs from her observations of real life and of the people around her at Sydney University, where she works in the IT department.
My favourite piece is illustrated on this page. It is an office worker carrying the ubiquitous cardboard take-away coffee tray. The tray is made for four cups, but it carries only three. What has happened to the missing fourth person? Pensioned off? Made redundant? Services no longer required? Died of a heart attack in a lonely flat? We can only guess at the origin of the pathos which infuses this very tender work.
This is an exhibition full of truth and quiet wisdom. I have uploaded some of the images that I took that day.
Elizabeth Fortescue, September 27, 2010
Sculpture at Sawmillers is a new event in the Sydney art calendar, and hopefully it will become a regular one.
Organised by former National Trust CEO Elsa Atkin, Sculpture at Sawmillers is a fabulous event. It took place this weekend (September 18 and 19, 2010) at Sawmiller Reserve in McMahons Point, on Sydney's lower North Shore.
I went along yesterday when the sun was shining down, the harbour sparkled, and families were out with their kids and dogs, checking out the 53 sculptures dotted throughout the park. Even the Scouts were there, selling home-made lemonade and stoking up the sausage sizzle. It all felt very democratic and happy.
The sculptures were selected for exhibition by prominent curators Jane Watters and Nick Vickers, and sculptor Michael Snape. They did a brilliant job, choosing a range of artists including some of our very best known to others who are still making a name. The photographs below will give some idea of the quality and interest of the works on show. There was even an artwork attached like a figurehead to the picturesque and rusty old wreck in the bay.
You could describe Sculpture at Sawmillers as a tempting aperitif to Sculpture by the Sea, the outdoor exhibition of sculptures which occurs each year along the coastal track from Bondi to Tamarama. It opens next month. But this would be to understate what an imaginative and artistically successful venture Sawmillers was. Let's just wish Elsa Atkin and her team a bright future, so artists can use Sawmiller Reserve as their playground every year.
Elizabeth Fortescue, September 19, 2010