Elizabeth Fortescue
Elizabeth Fortescue is the visual arts writer for the Daily Telegraph, Sydney, and Australian correspondent for The Art Newspaper, London
Homepage: http://www.artwriter.com.au
Posts by Elizabeth Fortescue
As the tens of thousands of people who enjoyed it already know, the recent Lucy Culliton survey show at Mosman Art Gallery was quite wonderful, and a great tribute to an artist whose contribution is  already substantial but who will go on to do so much more.
In September (2014), I was lucky enough to sit with Lucy's dad Tony Culliton at a wonderful lunch to celebrate the exhibition, titled The Eye Of The Beholder: The Art Of Lucy Culliton. After lunch, Lucy took to the stage with compere Simon Marnie and artists Euan Macleod and Peter O'Doherty in a conversation that shed light on Lucy and her work.
Here are some observations from the notes I made that day:
Lucy's menagerie: People are always interested in Lucy's love of animals, and the number of creatures she has gathered around her. Lucy said she currently has 42 sheep, two pet cows, a pet pig, four dogs, a fowl and a magpie. She recently looked after a wombat while taking it to an animal rescue person.
Lucy's new studio: "I have just purpose-built a big studio [on her farm, Bibbenluke Lodge, at Bibbenluke, NSW]. I was struggling in an existing shed.
But it wasn't big enough so I have just built a really big, fantastic studio."
School: "I was hopeless at school. I dropped out at the end of Year 10. I took a while to mature." Lucy worked in graphic design until the age of 27 when she enrolled in the National Art School in Sydney. One day, the veteran art dealer Rex Irwin addressed the students at NAS, telling them that for every 100 of them, only one would achieve. "I felt I was chosen!", Lucy said. At this point, Euan Macleod chimed in: "We were told it was one every two years."
Dyslexia: "I'm quite dyslexic. Working as a designer did not suit me. I didn't know what to do. I just wanted to be a painter but I wasn't strong enough to start. I needed an in. I needed a peer group. I kept horses at the Showground also, so I wasn't a drinker." Lucy made a bit of money while she was at art school by riding other people's horses at the old Showgrounds, now Centennial Parklands Equestrian Centre. "I love horses," she said.
When did you realise you were an artist? The artists had a question about when they realised they were an artist. This brought out a lovely bit of light banter.
"I'm hoping next year," said Euan, who is a very prominent Australian artist.
"I think it was about 4.30 on a Tuesday, " said Peter, ever the clown.
Lucy's answer was illuminating.
"I haven't painted now for two months and I feel like I am not a painter." Various life issues had kept her from the studio. Lucy has also told me in the past that, once she has finished painting for an exhibition, she normally goes into a semi-dormant stage as far as her work is concerned.
Euan added: "What Lucy says is true. You get pulled away from your work. Sometimes you feel you aren't getting enough time to think about what you're doing and you get back to the studio being a sanctuary and the studio being a special place."
Routine: "I love routine," Lucy said. After feeding all her animals, she's in the studio by 9am. "After lunch, I decide whether to go back to the studio or do some gardening or mow the lawn or something like that."
Peter said he and his artist wife Susan O'Doherty tend to work until dark in their shared studio at their home in Coogee. They then put out the work on the coffee table, watch TV and have dinner and keep going.
Relaxation: It sounded like all three artists are incredibly hard workers. Euan said he's not very good at relaxation, and Lucy said all her trips are painting trips. "I don't go on holidays," she said.
On finding her property in rural Bibbenluke, which is a former trout fishing lodge: "I just found 'Lucy-land'," Lucy said. "I found the place that suited me. It just happens to be six hours south of Sydney. All the outdoors things suit me. The house is a bit run-down, so it's comfortable for my animals. I also found Sydney is far too social. It takes a lot to get me away [from Bibbenluke]."
Art prizes: There was a funny moment when we learned Lucy's work, which is hugely popular and widely collected, was recently rejected from the Bega Art Show!
Euan said he missed Lucy at NAS, where he taught, by a couple of years. "Everyone was talking about this student who was there a couple of years before."
Finding home: Lucy said she would still be at Bibbenluke Lodge "until I'm 80".
"I've just arrived at where I'm comfortable," she said. "It's a place that feeds me full of ideas and (where) I can make my work. And it's a beautiful garden. It's the best place in the world."
On advice for emerging artists: "Don't take any advice. Just do what you want to do," Lucy said.
Elizabeth Fortescue, December 15, 2015
Tom Carment is one of the 10 artists selected by curator Anne Ryan for the Dobell Australian Drawing Biennial exhibition at the Art Gallery of NSW. I popped in on Carment at his home on a quaint and atmospheric laneway in inner Sydney. We were going to talk about drawing and bushwalking. Carment's new book, Seven Walks, Cape Leeuwin to Bundeena, has just been released with gorgeous photographs by Michael Wee to accompany Carment's drawings and text. That, along with his current exhibition at King Street Gallery on William, has been keeping Carment somewhat busy this year.
Artwriter: You've got numerous things happening: the book, the Dobell drawing exhibition, and your own exhibition at King St.
Carment: They've got 128 of my little watercolours (at the AGNSW show). I've done quite a lot of jacaranda paintings recently. And Neilson Park and Coledale (and other locations in city and country).
Is all this a coincidence, or was it planned to happen together?
It's been kind of hectic. Nearly four years ago Jan (Carment's wife Jan Idle) said "let's do the Cradle Mountain Overland track as a family". I think Matilda was 11 and Fenn was 16 and Felix was 18, something like that. And she really planned it well because we did it with carrying our own food in, and tents. We did the six day walk and this kitchen table was covered with ziplock bags and we marked them off every day and we planned all the food.  Michael Wee is a friend through Crown St Public, our kids went to school together. Andrea his wife designed the book. We have an ex Crown St Public School parent coffee still, even years after our kids have gone on to high school and beyond. We still meet up at the Belgenny Café at Taylor Square. I was telling Michael silly anecdotes about our adventures on the walk – getting completely wet, me getting a leech inside my mouth, things like that, and he loves walking and photographing landscape. A few weeks later he came back and said, "I've got a really good idea, why don't we do this book together, walks in Australia?". He thought it was a good hook to hang a beautiful book about Australian landscape. We weren't really experienced bushwalkers. I've always gone out to paint in the bush, but not camping out overnight with my own tent and my own food; usually I go to the Royal National Park, and I've gone camping with the family where you pull your gear out of the back of the car and walk 25 metres and put up your tent at Honeymoon Bay or somewhere. So it was a learning experience for me. Michael and I did all the same walks, but we didn't do them all together. (Carment undertook some of the walks with other friends.) I tried to incorporate some of the conversations we had on the walk. Because when you go on a walk you have conversations you wouldn't have in the rushed schedule of everyday life. Especially with our own kids, they started quizzing us. They asked Jan and I about our lives. "What were doing when you were 16?", that sort of thing. That was really nice. You don't talk all the time when you're walking; you might walk for an hour with someone and not say anything. When you come back from a longish walk I think the anxieties you had are put in perspective and liitle things you thought were terribly important aren't so important any more. I think it's very kind of refreshing.
You've always gone into the bush to paint. Did you enjoy the long walks and camping?
Yeah I really enjoyed it, except sometimes it was a challenge to get in my painting with the walking. Michael will walk along and see something and stop and take a photo of it. The sort of paintings I have in this book, of drawings or paintings, they start with a line drawing and I add the watercolour, so you could call them drawings. It takes me about 20 minutes, half a hour, to do one. If I was walking with other people, I might sneak one in during morning tea break, at lunchtime perhaps I could do a watercolour, and once I'd set up my tent in the late afternoon, before it got dark I'd rush out and do some painting and when I first woke up in the morning I'd rush out and try and do a painting then. So I had to really make the most of my time.
Some of the walks were already familiar so I had a greater wealth of watercolours to draw from, for example the Otford – Bundeena walk. I first did that walk about 35 years ago. And the Cape to Cape walk, because my partner Jan is from WA, we'd holidayed on that coast before. We used to go across to WA to see Jan's parents and we'd go down to the mouth of the Margaret River which is half way up the Cape to Cape walk; it's day three of the Cape to Cape. And when we'd we stayed there we'd gone and done bits of the Cape walk.
One of the challenges is you can't take too much?
I also had all the breakfasts for the family, so my weight diminished over six days. I learned to take just an A5 and an A6 size pad and a little Tupperware container with my watercolours and a couple of little enamel plates which I put face to face. I use tubes and then I use these pens which are permanent sort of things. They dry quite quickly and when I put the watercolour wash on they don't blur out.
You're in the first Dobell drawing biennial at the Art Gallery of NSW. (The biennial this year replaced the former and well-loved Dobell Drawing Prize, in which Carment was hung three times and was rejected 17 times.)
I guess I'm lucky, it was my time. I let (Anne Ryan) pick the eyes out of what I'd  done in the last two years.
Where does drawing fit in to your practice?
It's like the core of what I do, really. It's the beginning. And sometimes it's all that's needed. I'm trying to convey the sensation of, you know, when something jumps out at you as you walk along, something that's not just beautiful but interesting. And rather than think, "I'll take a photo and go back to the studio", I've tried to make it so I've always got something with me in my backpack so I can make a picture really quickly while I still have that sensation in my head.
We had an exchange student with us recently, a German girl, and she did hockey and I'd take her out to Daceyville twice a week and so I did a whole series of pictures around Daceyville. I thought, "I'll use my time rather than sit and watch them play hockey". My life has centred a lot around my family and working from home. You come home and cook dinner. Jan and I have always shared the children and the domestic stuff. So I'm lucky like that.
Are you planning to do any more long bushwalks?
I'd like to do some in NT and Qld. Carnarvon Gorge. Larapinta. Hinchenbrook Island. Katherine to Edith Falls.
Elizabeth Fortescue, December 9, 2014, Sydney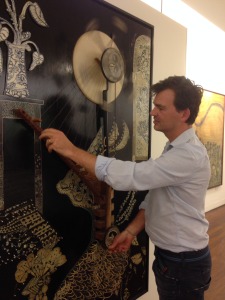 Joshua Yeldham's mid-career survey exhibition, Surrender, which was opened by actor Richard Roxburgh at the Manly Art Gallery and Museum on September 19, 2014, gave me the opportunity to meet and interview this extraordinary artist.
Yeldham creates much of his work on board his romantic old motor cruiser while it is moored on the lower reaches of the Hawkesbury River around Refuge Bay.
I asked Yeldham about his new book, also called Surrender, which was launched in tandem with his exhibition. The book is a peon to his 10-year-old daughter, Indigo, who was born after Joshua and his wife Jo went through the IVF program. Yeldham said he made a conscious decision to move to a watery environment while trying to conceive a child. 
"That barren period was while I was in the desert, so it connected to the desert being the dried mother of all oceans," he said.
When Yeldham began to dream of an owl which swooped down and stole his and Jo's "potential children", he drew on what he learned in his travels throughout North Africa and began making charms to appease the owl.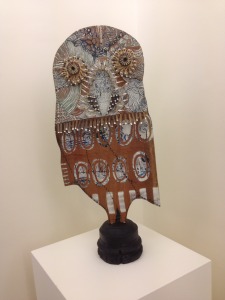 "Finally Joey became pregnant, and I started to celebrate the owl and give thanks to the owl and to make musical paintings that are owls that play music, which is melody, rhythm, repetition, learning to push through adversity and maintain navigation," Yeldham said. "So the owls over 10 years have transcended from being ominous to being navigators for me. And also maternal."
The owl is not a common Hawkesbury River inhabitant.
"They're very secretive. All nature in the Kuringai is very secretive. It's not an abundance of blatant wildlife. It's like an ancient temple for me, the bush. It's so removed from humanity and all that's left is the traces of enormous forces that push boulders down gullies and forces of erosion and weathering of sandstone and tidal currents that don't permit humans to last long there."
Yeldham explained his philosophy, underlying all his art, that new life springs from destruction. He believes this is as true for human life as it is for, say, regeneration by fire in the Australian bush.
Yeldham spoke about growing up in Sydney's eastern suburbs, and joyous holidays at his parents' hobby farm on the Hawkesbury River at Ebenezer.
"When I was around 10, my mum and dad divorced and the farm became barren. The family unit stopped to exist. We still own the farm, but all of us let go of it because it contains such powerful memories and joyful memories and then in the separation it lost its fertility again, the ability that we would all grow as a family. And I wanted to reclaim the river as a new husband and as a father to my children and to teach my children the knowledge of the river, and it was a calling, really, to return."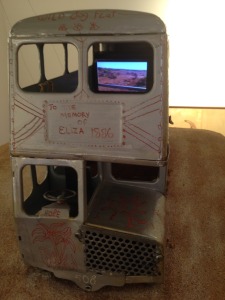 Yeldham sometimes takes his boat up to the old farm. But he gravitates to the "mangrove country" near Spencer and in the Kuringai country in locales such as Smiths Creek and Yeomans Bay. Yeldham said he loves the mangrove country because of its physical hostility as far as humans are concerned. "When I spent time in there, there's no reference to human life. You can camp there and you're lost in time."
I asked if Yeldham goes to the river to paint alone. He said, emphatically, yes. "I go to the river to collapse and then create, which is creation coming out of the burn-off. That's one of the most ancient stories any of us can access. And to not fight that process but to embrace it with great elemental awareness and gratitude."
I asked Yeldham if he planned a sequel to his book, Surrender, that would mainly be for Jude, his six-year-old son, also born by IVF.
"That's what everyone's asking. We're busting to do that. We've all been in Africa, all of us, since then, and it's so much about my son the way he saw Africa and travelled. So yeah, why not?"
Elizabeth Fortescue, September 29, 2014
It's been quite a big week for this visual arts writer in Sydney. Here's how I saw it unfold:
On Tuesday morning I dropped into the NG Art Gallery in Chippendale to speak to Fiona White, whose exhibition titled Misfits I was to open the following night.  http://www.ngart.com.au/artists_white.html
Fiona moved to Killcare on the Central Coast about four years ago, where she lives in a pole house on the side of the hill. Influenced by Mexican art and in particular Frida Kahlo, and also influenced by African naive art such as you see on the boards outside barber shops advertising different styles of hair cut, the paintings were pure flights of fancy.
Fiona borrows faces from "just everywhere". She takes pictures in the street when she's overseas, or she bases them on photographs in newspapers and magazines. People even send her photos. She looks for "a face that has character, or looks like it has a story".
On Wednesday I interviewed artist Jonathan Jones, who was selected as the winner of Kaldor Public Art Projects' competition, Your Very Good Idea. (My Daily Telegraph story on Jonathan Jones.) Jonathan, who used to be a curator of indigenous art at the Art Gallery of NSW, told me that his very good idea would focus on the Garden Palace which was located in the Royal Botanic Garden, Sydney, from 1879 until it burned down in 1882. The giant conflagration, a cinder from which set fire to a home in distant Potts Point, destroyed vast amounts of early historical documents and objects, including possibly thousands of indigenous artefacts gathered from around NSW and put on show in the Sydney International Exhibition which the Garden Palace had been built to display.
Jonathan told me that the loss of these objects has had a grievous impact, robbing today's generations of indigenous people of the means to connect with many real objects from their heritage. I had no idea there were so few artefacts left.
On Thursday I went to the official announcement of Your Very Good Idea being won by Jonathan, which was held in the rose garden at the Royal Botanic Garden. The Garden Palace stretched, in fact, from the Conservatorium right across the gardens flanking Macquarie Street to the State Library — a gigantic footprint making it the most dominating building in Sydney at the time.
I ambled through the gardens to the Art Gallery of NSW to see who would win the Archibald People's Choice.
It turned out to be Vincent Fantauzzo and his painting of his four-year-old son Luca ,which Vincent considered to be a self-portrait. Vincent's very attractive wife, the actress Asher Keddie, accompanied him to the announcement and she stood to one side, somewhat bemused but obviously pleased, as her husband got the limelight. My story on Vincent Fantauzzo.
Going back to Wednesday, I went to St James' railway station on the City Circle to interview Justine Muller, an artist who was brought up with an instinct for heritage, largely thanks to her mother and father who ran the East Sydney Hotel and knew Jack Mundey, the hero of the 1970s green bans. Muller is, in fact, Mundey's Goddaughter. Muller's large-scale drawings were of people she spotted around Millers Point, where vast numbers of people who have lived in the area have been forcibly displaced to make way for gentrification by the State Government.
The drawings were being hung inside glass cabinets along the platforms of the station, and looked fabulous. I'm sure commuters will love them. The exhibition was under the auspices of the Conductors Project run by Tristan Chant. It was the first time the Conductors Project has taken over both platforms at the station, Chant told me. My story on Justine Muller.
Thursday night saw the announcement of Nick Stathopoulos' painting of author Robert Hoge as the winner of the People's Choice in the Salon des Refuses. This is a wonderful picture (see left), heartfelt and sensitive, and Nick tells me a documentary is being made about its creation. This is going to be one to watch out for. 

Finally, on Friday, I ducked down to Oxford St, Darlinghurst, to meet Emilya Colliver of Art Pharmacy, an on-line art sales business which has occasional pop-up exhibitions like the one I was about to see. I thought Emilya very enterprising, having tapped into the willingness of art buyers to buy on-line. Emilya said it was only works in the hundreds of</a> dollars that sold on-line, after which people tended to prefer to see the works in person before buying.
Finally, the Australian Museum has a brilliant new show on the Aztecs. My Aztecs story here.
Elizabeth Fortescue, September 15, 2014