Elizabeth Fortescue
Elizabeth Fortescue is the visual arts writer for the Daily Telegraph, Sydney, and Australian correspondent for The Art Newspaper, London
Homepage: http://www.artwriter.com.au
Posts by Elizabeth Fortescue
Tom Carment is one of the 10 artists selected by curator Anne Ryan for the Dobell Australian Drawing Biennial exhibition at the Art Gallery of NSW. I popped in on Carment at his home on a quaint and atmospheric laneway in inner Sydney. We were going to talk about drawing and bushwalking. Carment's new book, Seven Walks, Cape Leeuwin to Bundeena, has just been released with gorgeous photographs by Michael Wee to accompany Carment's drawings and text. That, along with his current exhibition at King Street Gallery on William, has been keeping Carment somewhat busy this year.
Artwriter: You've got numerous things happening: the book, the Dobell drawing exhibition, and your own exhibition at King St.
Carment: They've got 128 of my little watercolours (at the AGNSW show). I've done quite a lot of jacaranda paintings recently. And Neilson Park and Coledale (and other locations in city and country).
Is all this a coincidence, or was it planned to happen together?
It's been kind of hectic. Nearly four years ago Jan (Carment's wife Jan Idle) said "let's do the Cradle Mountain Overland track as a family". I think Matilda was 11 and Fenn was 16 and Felix was 18, something like that. And she really planned it well because we did it with carrying our own food in, and tents. We did the six day walk and this kitchen table was covered with ziplock bags and we marked them off every day and we planned all the food.  Michael Wee is a friend through Crown St Public, our kids went to school together. Andrea his wife designed the book. We have an ex Crown St Public School parent coffee still, even years after our kids have gone on to high school and beyond. We still meet up at the Belgenny Café at Taylor Square. I was telling Michael silly anecdotes about our adventures on the walk – getting completely wet, me getting a leech inside my mouth, things like that, and he loves walking and photographing landscape. A few weeks later he came back and said, "I've got a really good idea, why don't we do this book together, walks in Australia?". He thought it was a good hook to hang a beautiful book about Australian landscape. We weren't really experienced bushwalkers. I've always gone out to paint in the bush, but not camping out overnight with my own tent and my own food; usually I go to the Royal National Park, and I've gone camping with the family where you pull your gear out of the back of the car and walk 25 metres and put up your tent at Honeymoon Bay or somewhere. So it was a learning experience for me. Michael and I did all the same walks, but we didn't do them all together. (Carment undertook some of the walks with other friends.) I tried to incorporate some of the conversations we had on the walk. Because when you go on a walk you have conversations you wouldn't have in the rushed schedule of everyday life. Especially with our own kids, they started quizzing us. They asked Jan and I about our lives. "What were doing when you were 16?", that sort of thing. That was really nice. You don't talk all the time when you're walking; you might walk for an hour with someone and not say anything. When you come back from a longish walk I think the anxieties you had are put in perspective and liitle things you thought were terribly important aren't so important any more. I think it's very kind of refreshing.
You've always gone into the bush to paint. Did you enjoy the long walks and camping?
Yeah I really enjoyed it, except sometimes it was a challenge to get in my painting with the walking. Michael will walk along and see something and stop and take a photo of it. The sort of paintings I have in this book, of drawings or paintings, they start with a line drawing and I add the watercolour, so you could call them drawings. It takes me about 20 minutes, half a hour, to do one. If I was walking with other people, I might sneak one in during morning tea break, at lunchtime perhaps I could do a watercolour, and once I'd set up my tent in the late afternoon, before it got dark I'd rush out and do some painting and when I first woke up in the morning I'd rush out and try and do a painting then. So I had to really make the most of my time.
Some of the walks were already familiar so I had a greater wealth of watercolours to draw from, for example the Otford – Bundeena walk. I first did that walk about 35 years ago. And the Cape to Cape walk, because my partner Jan is from WA, we'd holidayed on that coast before. We used to go across to WA to see Jan's parents and we'd go down to the mouth of the Margaret River which is half way up the Cape to Cape walk; it's day three of the Cape to Cape. And when we'd we stayed there we'd gone and done bits of the Cape walk.
One of the challenges is you can't take too much?
I also had all the breakfasts for the family, so my weight diminished over six days. I learned to take just an A5 and an A6 size pad and a little Tupperware container with my watercolours and a couple of little enamel plates which I put face to face. I use tubes and then I use these pens which are permanent sort of things. They dry quite quickly and when I put the watercolour wash on they don't blur out.
You're in the first Dobell drawing biennial at the Art Gallery of NSW. (The biennial this year replaced the former and well-loved Dobell Drawing Prize, in which Carment was hung three times and was rejected 17 times.)
I guess I'm lucky, it was my time. I let (Anne Ryan) pick the eyes out of what I'd  done in the last two years.
Where does drawing fit in to your practice?
It's like the core of what I do, really. It's the beginning. And sometimes it's all that's needed. I'm trying to convey the sensation of, you know, when something jumps out at you as you walk along, something that's not just beautiful but interesting. And rather than think, "I'll take a photo and go back to the studio", I've tried to make it so I've always got something with me in my backpack so I can make a picture really quickly while I still have that sensation in my head.
We had an exchange student with us recently, a German girl, and she did hockey and I'd take her out to Daceyville twice a week and so I did a whole series of pictures around Daceyville. I thought, "I'll use my time rather than sit and watch them play hockey". My life has centred a lot around my family and working from home. You come home and cook dinner. Jan and I have always shared the children and the domestic stuff. So I'm lucky like that.
Are you planning to do any more long bushwalks?
I'd like to do some in NT and Qld. Carnarvon Gorge. Larapinta. Hinchenbrook Island. Katherine to Edith Falls.
Elizabeth Fortescue, December 9, 2014, Sydney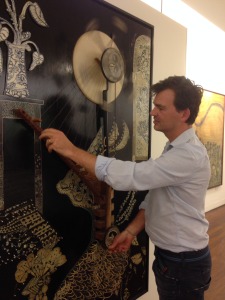 Joshua Yeldham's mid-career survey exhibition, Surrender, which was opened by actor Richard Roxburgh at the Manly Art Gallery and Museum on September 19, 2014, gave me the opportunity to meet and interview this extraordinary artist.
Yeldham creates much of his work on board his romantic old motor cruiser while it is moored on the lower reaches of the Hawkesbury River around Refuge Bay.
I asked Yeldham about his new book, also called Surrender, which was launched in tandem with his exhibition. The book is a peon to his 10-year-old daughter, Indigo, who was born after Joshua and his wife Jo went through the IVF program. Yeldham said he made a conscious decision to move to a watery environment while trying to conceive a child. 
"That barren period was while I was in the desert, so it connected to the desert being the dried mother of all oceans," he said.
When Yeldham began to dream of an owl which swooped down and stole his and Jo's "potential children", he drew on what he learned in his travels throughout North Africa and began making charms to appease the owl.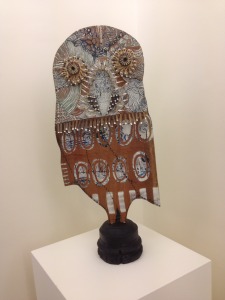 "Finally Joey became pregnant, and I started to celebrate the owl and give thanks to the owl and to make musical paintings that are owls that play music, which is melody, rhythm, repetition, learning to push through adversity and maintain navigation," Yeldham said. "So the owls over 10 years have transcended from being ominous to being navigators for me. And also maternal."
The owl is not a common Hawkesbury River inhabitant.
"They're very secretive. All nature in the Kuringai is very secretive. It's not an abundance of blatant wildlife. It's like an ancient temple for me, the bush. It's so removed from humanity and all that's left is the traces of enormous forces that push boulders down gullies and forces of erosion and weathering of sandstone and tidal currents that don't permit humans to last long there."
Yeldham explained his philosophy, underlying all his art, that new life springs from destruction. He believes this is as true for human life as it is for, say, regeneration by fire in the Australian bush.
Yeldham spoke about growing up in Sydney's eastern suburbs, and joyous holidays at his parents' hobby farm on the Hawkesbury River at Ebenezer.
"When I was around 10, my mum and dad divorced and the farm became barren. The family unit stopped to exist. We still own the farm, but all of us let go of it because it contains such powerful memories and joyful memories and then in the separation it lost its fertility again, the ability that we would all grow as a family. And I wanted to reclaim the river as a new husband and as a father to my children and to teach my children the knowledge of the river, and it was a calling, really, to return."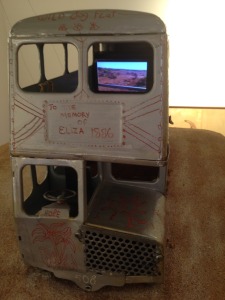 Yeldham sometimes takes his boat up to the old farm. But he gravitates to the "mangrove country" near Spencer and in the Kuringai country in locales such as Smiths Creek and Yeomans Bay. Yeldham said he loves the mangrove country because of its physical hostility as far as humans are concerned. "When I spent time in there, there's no reference to human life. You can camp there and you're lost in time."
I asked if Yeldham goes to the river to paint alone. He said, emphatically, yes. "I go to the river to collapse and then create, which is creation coming out of the burn-off. That's one of the most ancient stories any of us can access. And to not fight that process but to embrace it with great elemental awareness and gratitude."
I asked Yeldham if he planned a sequel to his book, Surrender, that would mainly be for Jude, his six-year-old son, also born by IVF.
"That's what everyone's asking. We're busting to do that. We've all been in Africa, all of us, since then, and it's so much about my son the way he saw Africa and travelled. So yeah, why not?"
Elizabeth Fortescue, September 29, 2014
It's been quite a big week for this visual arts writer in Sydney. Here's how I saw it unfold:
On Tuesday morning I dropped into the NG Art Gallery in Chippendale to speak to Fiona White, whose exhibition titled Misfits I was to open the following night.  http://www.ngart.com.au/artists_white.html
Fiona moved to Killcare on the Central Coast about four years ago, where she lives in a pole house on the side of the hill. Influenced by Mexican art and in particular Frida Kahlo, and also influenced by African naive art such as you see on the boards outside barber shops advertising different styles of hair cut, the paintings were pure flights of fancy.
Fiona borrows faces from "just everywhere". She takes pictures in the street when she's overseas, or she bases them on photographs in newspapers and magazines. People even send her photos. She looks for "a face that has character, or looks like it has a story".
On Wednesday I interviewed artist Jonathan Jones, who was selected as the winner of Kaldor Public Art Projects' competition, Your Very Good Idea. (My Daily Telegraph story on Jonathan Jones.) Jonathan, who used to be a curator of indigenous art at the Art Gallery of NSW, told me that his very good idea would focus on the Garden Palace which was located in the Royal Botanic Garden, Sydney, from 1879 until it burned down in 1882. The giant conflagration, a cinder from which set fire to a home in distant Potts Point, destroyed vast amounts of early historical documents and objects, including possibly thousands of indigenous artefacts gathered from around NSW and put on show in the Sydney International Exhibition which the Garden Palace had been built to display.
Jonathan told me that the loss of these objects has had a grievous impact, robbing today's generations of indigenous people of the means to connect with many real objects from their heritage. I had no idea there were so few artefacts left.
On Thursday I went to the official announcement of Your Very Good Idea being won by Jonathan, which was held in the rose garden at the Royal Botanic Garden. The Garden Palace stretched, in fact, from the Conservatorium right across the gardens flanking Macquarie Street to the State Library — a gigantic footprint making it the most dominating building in Sydney at the time.
I ambled through the gardens to the Art Gallery of NSW to see who would win the Archibald People's Choice.
It turned out to be Vincent Fantauzzo and his painting of his four-year-old son Luca ,which Vincent considered to be a self-portrait. Vincent's very attractive wife, the actress Asher Keddie, accompanied him to the announcement and she stood to one side, somewhat bemused but obviously pleased, as her husband got the limelight. My story on Vincent Fantauzzo.
Going back to Wednesday, I went to St James' railway station on the City Circle to interview Justine Muller, an artist who was brought up with an instinct for heritage, largely thanks to her mother and father who ran the East Sydney Hotel and knew Jack Mundey, the hero of the 1970s green bans. Muller is, in fact, Mundey's Goddaughter. Muller's large-scale drawings were of people she spotted around Millers Point, where vast numbers of people who have lived in the area have been forcibly displaced to make way for gentrification by the State Government.
The drawings were being hung inside glass cabinets along the platforms of the station, and looked fabulous. I'm sure commuters will love them. The exhibition was under the auspices of the Conductors Project run by Tristan Chant. It was the first time the Conductors Project has taken over both platforms at the station, Chant told me. My story on Justine Muller.
Thursday night saw the announcement of Nick Stathopoulos' painting of author Robert Hoge as the winner of the People's Choice in the Salon des Refuses. This is a wonderful picture (see left), heartfelt and sensitive, and Nick tells me a documentary is being made about its creation. This is going to be one to watch out for. 

Finally, on Friday, I ducked down to Oxford St, Darlinghurst, to meet Emilya Colliver of Art Pharmacy, an on-line art sales business which has occasional pop-up exhibitions like the one I was about to see. I thought Emilya very enterprising, having tapped into the willingness of art buyers to buy on-line. Emilya said it was only works in the hundreds of</a> dollars that sold on-line, after which people tended to prefer to see the works in person before buying.
Finally, the Australian Museum has a brilliant new show on the Aztecs. My Aztecs story here.
Elizabeth Fortescue, September 15, 2014
It's Friday July 18, 2014, the day the portrait of Penelope Seidler wins the Archibald Prize for Bondi artist Fiona Lowry.
Even before the noon media announcement by Art Gallery of NSW head of trustees, Guido Belgiorno-Nettis, we all know who's won. At least, we think we do.
Penelope Seidler, widow of the towering Sydney architect, the late Harry Seidler, is in the gallery along with the media. She looks apprehensive.
Across the room, Fiona Lowry can't help grinning. I key into my Twitter account the words, "Fiona Lowry wins the Archibald Prize with her portrait of Penelope Seidler". My finger has only to wait for the words. A fellow journo sees what I'm doing and prods me with his elbow. We share a tiny chuckle. Lowry is an obvious winner, and her body language says it all.
Sure enough, a couple of seconds later, Lowry wins the prize. Her portrait is a gorgeous thing. A study of a woman captured in that split second when she looks back at the Sydney home that she and Harry designed and lived in for decades. It's where they raised their family. The store of memory must be tremendous for Seidler, and her expression in the portrait shows it. She is lost in the moment.
That frozen moment came about on one of the occasions when Fiona and Penelope visited the Killara house on Sydney's bushy north shore. This was after Fiona had decided Penelope would make a wonderful Archibald portrait, and Penelope had agreed to sit for it.
The house was built in 1966-1967, and Penelope lived there with Harry until he died in 2006.
I spoke to Lowry on Archibald day, when the surreal nature of winning the prize was still fresh. We were about to begin our interview when Lowry's dealer, Martin Browne, darted in to say one of the posh interior magazines wanted to do a spread on her. Browne said goodbye, and left me to speak to Lowry. It's started already, I thought. The celebrity thing.
The first time I met Lowry, she was in the Primavera exhibition of young artists at the Museum of Contemporary Art Australia in 2005. Lowry's paintings were full of foreboding, quite disturbing. As well they might be, since they depicted people in landscapes where fearful crimes had taken place.
"Yes, I guess it's evolved since then," Lowry said when I reminded her of meeting her at Primavera all those years ago. "I'm less likely to go into such a horrific space, but I've been taking people down to Bundanon, Arthur Boyd's property, and spent a lot of time down there making work. I love that history that's there. So I guess with this one I wanted to take Penelope back to a place that obviously has that history. It's an amazing space."
I mentioned that Max Dupain had taken a picture of Penelope in the garden of the Killara house in 1967.
"I know, it's an amazing synergy and I didn't know that," Lowry said. "She told me this morning. I know that photograph actually, so it's kind of beautiful that it all came together. I do know that photograph but I didn't know that it was taken down there."
Lowry knew quite a lot about the Seidlers before she approached Penelope to sit for her.
"I had been a fan of Harry Seidler's for a long time. I bought his book The Grand Tour when I was younger. I always remember (Harry's) brother told him to buy a decent camera. He bought this Leica camera and it was all his travels around the world and he took amazing photos of buildings."
Lowry said she made a point of visiting some of the same places while she was in Europe, using the Seidler book as a kind of travel guide.
Penelope Seider had seemed a powerful figure when Lowry first saw her at an art gallery opening. Later, as she got to know her sitter, Lowry found her "so welcoming and just adorable".
"I really love her, actually," she said.
Lowry was already using an airbrush back in her Primavera days, and she still does."The airbrush never touches the canvas," she said. "You can make it in focus or out of focus  really easily."
Having interviewed Lowry at the Archibald, I went home and dug out my notes from our interview when she won the 2008 Doug Moran National Portrait Prize, then being held at the State Library of NSW. Lowry's winning painting was a nude self portrait in the Belanglo State Forest, scene of Ivan Milat's chilling activities. It was a pretty brave painting, considering the ghastliness of the Belanglo crimes.
Lowry's then dealer, Barry Keldoulis, told me that Lowry was "reclaiming the territory in the Belanglo forest".
"She paints a lot of spaces where there's been evil done. As a child she went to Bondi Public School, and came out and walked through the laneway and every street sign had a poster saying 'have you seen this girl?', and it was Samantha Knight, and her homely familiar streets were immediately imbued with fear and paranoia."
In my 2008 notes, Lowry said her nakedness in the painting revealed a loss of innocence.
"The setting is Belanglo, but it's not specifically talking about what happened in Belanglo," she said.
"It's in general the malevolence of the landscape that has been explored since Frederick McCubbin painted his Lost painting. That's a really interesting painting because there was this big fear of children wandering off into the bush in that time. So I think the landscape has always held that sort of element to it.
"I'd like in my work to play with those ideas (how evil events taint the landscape), and how you can bring these things together and make a new story out of those myths."
Fast-forwarding to the annual Archibald Lunch at the Sofitel this month (August 2014), after the prize announcement, Lowry was on the stage with half a dozen other finalists and their subjects. Beside Lowry on stage, ready to take the audience's questions, sat Penelope Seidler.
"We ended up in the gully at the back of the house," Lowry said. "Penelope looked up at the house. It's that moment that resonated with me. She's reflecting on the space there, I guess, and that's what that moment is."
Penelope Seidler added to the story. "I remember it well, the moment Fiona is talking about," she said. "I looked back and I think I said, 'oh, I haven't been down here for a long time', and there's a photo Max Dupain took in 1967 of me standing in more or less the same situation and I was thinking about that and the fact it was 46, 47 years ago and in a way nothing had changed. I was lost for a moment. It's absolutely true."
Penelope Seidler paid Lowry a lovely compliment. "I was lucky to be picked by her because I knew she was a good artist."
Seidler even revealed she had bought the Lowry portrait. "I thought, 'do I want anyone else to own it?' So I bought it," she said. "I don't fancy the idea of having it hanging where I can see it all the time, but I'm sure I can find a nice home for it."
Lowry said she had first seen Seidler at a gallery opening six years earlier.
"I was really captivated by her and felt her presence in the room, and I decided then that she was somebody I would like to make a painting about. Not even focusing on the Archibald."
Fiona discussed her spray-gun technique, saying she began using it about 10 years ago after trying, and dismissing, spray cans. "The air brush allows fine movement and the ability to go in and out of focus," she said.
Elizabeth Fortescue, August 25, 2014, Sydney
---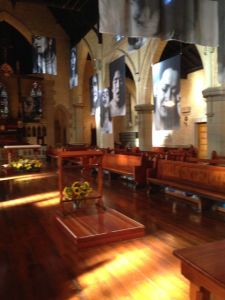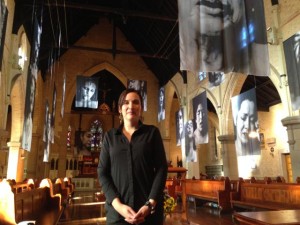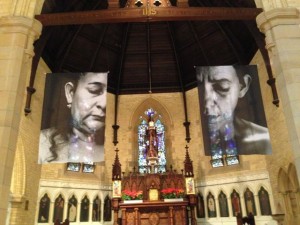 Erika Diettes' photographic portraits of Colombian women are printed on lengths of fine silk. Numbering about 20, the portraits are delicately suspended from the ceiling of St Canice's church in Elizabeth Bay, Sydney, as part of the Head On Photo Festival.
The peaceful interior of St Canice's is a perfect setting for these extraordinary images of real-life suffering, of faces that call to mind the women in Renaissance paintings of the entombment of Christ.
The women in Diettes' photographs had also endured suffering of Biblical proportions, having been forced to witness their loved ones tortured and executed during the armed terror which has beset Colombia throughout decades of armed conflict.
One of the women was made to watch as her mother's tongue was cut out and her eyes gouged out. Another woman scooped up and drank her murdered husband's blood in an irrational bid to absorb his life force into her own body. Another had been raped by six men but had suppressed her screams for the sake of her children who were locked in the next room.
Diettes photographed all these women as they related their stories of pain and death. During each interview, there inevitably there came a moment when words could not describe the women's pain. That was the moment, almost transcendental in its intensity, that Diettes pressed the shutter button on her camera.
"I had the particular intention of photographing them in the moment that their eyes closed, because they are present in the exact moment of the memory of that killing," she said.
I met Diettes at St Canice's this week, finding her to be younger than I had expected. Her manner was warm and open. She talked about why she had titled the series of photographs Sudarios, meaning "shrouds" in Spanish.
"The basic connection for me was the holy shroud of Turin which is supposed to be the last time Jesus's face is supposed to have left a physical impression on the fabric," Diettes said.
"That's my intention with printing it on silk. This would be the last impression of these women while alive."
Even though the women lived, there was a part of them that died.
"I have been working with victims of violence for quite some time now," Diettes said. "Many family members of the disappeared or that have had somebody killed, they always say after the encounter with violence 'it's like you are left dead but you are still alive'."
Diettes sat with each of her subjects for two or three hours. A therapist was also present as the women told their stories, often for the very first time.
The series was shot in 2010 and 2011.
"All these women were from a region called Antioquia. Medellin is the capital," Diettes said. "I took the images in rural areas of Antioquia in a place very historically hit by the guerrilla and paramilitary violence [as well as land disputes and the drug trade]."
It shows the level of trust the women had in Diettes that they agreed to be photographed with bare shoulders. One of the first portraits in the series was of a woman in a flowery shirt. Diettes thought the shirt was distracting. She asked the women to keep their jewellery and makeup on, however, as symbols of their dignity in the face of terrible adversity.
Diettes has not displayed the women's stories alongside the photographs in the exhibition. To do so, she felt, would be to connect the stories too closely to the individual women. The sad fact is that Colombia is not the only place where such atrocities occur. They happen all over the world.
Elizabeth Fortescue, May 16, 2014