Elizabeth Fortescue
Elizabeth Fortescue is the visual arts writer for the Daily Telegraph, Sydney, and Australian correspondent for The Art Newspaper, London
Homepage: http://www.artwriter.com.au
Posts by Elizabeth Fortescue
It was wonderful to see John Olsen, one of Australia's oldest living masters, on top of his form at the Mosman Art Gallery this week.
Olsen had made the special trip from his Southern Highlands home to present his painting, titled The Rolling Sea and That Streeton Painting, 2014, as his gift to the gallery.
Exactly why Olsen made this generous gesture, or even created The Rolling Sea in the first place, dates to 2012 when Sydney benefactor Neil Balnaves gave 16 valuable Australian Impressionist paintings to the Mosman gallery.
Olsen had been invited to the celebration surrounding the Balnaves gift, and immediately fell in love with the painting reproduced on the invitation he had received in the mail.
The painting was Sydney Harbour, 1895, by the great Arthur Streeton.
Here are Olsen's delightful comments yesterday when he walked into the Mosman Art Gallery and saw The Rolling Sea hanging next to Streeton's Sydney Harbour:
"That's delicious! It's almost edible!", Olsen exclaimed at the first glance of his picture.
"Oh, that's lovely. I'm so pleased."
And then he was off, speaking off the cuff in his charming way, telling assembled media all about the picture with barely a prompt from any of us.
"Have you ever travelled on the Manly ferry? And you get to Balmoral way, and it's getting near the Heads, and it's been very rough weather and the Manly ferry ploughs into the sea, and it's very swirly.
"And you see the difference between the two pictures of course. Streeton's is very very special. It's 1895 when Streeton first came to Sydney from Melbourne and he's in great form. Somehow Sydney rejuvenated him, dare I say after Melbourne. And so he did marvellous pictures of the Hawkesbury River, fabulous pictures, (like) Still Glides the Stream, and he took a vantage point there which still exists today. It's just something that happens to creative people; they can hit their top and everything they do is bloody marvellous. The point being is that whilst they're blessed, they don't know. There's this area of not knowing. And this is a divine picture. When I first saw it I was completely taken by it. I sent a reproduction of it to Clive James, who has very serious illness, leukemia, and he lives in Cambridge and he'd love to come to Australia and he can't, and he said 'I like that picture so much that I've put it on my bedroom side table'.
"So there it is, and you see it's just so important and the ferry is just meeting that slight tidal movement at sea and in between there's a most interesting thing, there's a big clipper coming in, and there is the modern ship, a steam ship, but they're still using clippers, it's 1895.
"Over there is Vaucluse – no houses there! It's just fantastic. And this lovely touch of the smoke and everything about it is a state of grace. Somehow it's a blessed kiss that's taken place. And the sailing boat. But this is another very revolutionary thing. He can see that the best way to do the harbour is to increase by elongation, and furthermore it's a picture that breaks the chains of us being a colony; it's completely democratic. Fantastic! It's such an important picture, and I don't think Mr Balnaves knew how good it was until I told him. So here it is in the gallery, the right place for it, and it's in great condition. Later on, have a close look. It's not mainly blue, there are little touches of violet in it. And the sailing ships are like punctuation marks. And it's playing again the long, long land mass here. It's beautiful. And the Heads are again so beautifully painted. It's a little masterpiece! People should just come, which is the best way to see pictures in the Louvre, just come to watch one picture and hopefully two (indicating his own picture next to the Streeton).
"Whilst Streeton's picture is planular, this picture (The Rolling Sea) is what I would describe as being in the all-at-once world. Meaning that it's below the water; it's the movement of the water, and then the slow sort of turning of the heave of wave. It demonstrates how we in the 20th/21st century view things; that we just don't really say what I'm looking at is the fact; it's what lies around it and what surrounds it. And so in consequence this is a kind of reinterpretation. The basic tonality really remains the same, which is what Sydney Harbour is. How luck we are to have the harbour! It's there to be enjoyed, and I'm very moved that it should be with Streeton. What I'm able to say is that 1895 is a divine period. In 1897 Streeton left Australia hoping to do well in London. He never succeeded. He was sort of there but not there. And he came back, and that innocence had gone. I'm sure you understand the fragility of creativity, and the point of it is the creator himself doesn't know he has it.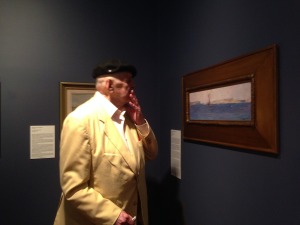 Did you have a copy of the Streeton in the studio while you were painting yours?
Yes, I did, but you see there is the challenge, that it's no good just following like the pattern of Streeton, even though you can obviously see how much I admired the picture. You have to say, 'close your eyes. What do I feel?' And it went back to when we were students at Julian Ahston's art school and we used to love to go on the ferry when it was rough weather in winter. And we used to love to be not in the cabin but in the front part of the boat, which was a very dangerous thing at the time because the sea often runs over the front of the ferry. And there it was going up and down, and I noticed the ferry in the Streeton picture, of how it was like in that kind of swell is the word, and I thought, 'now I've had that experience, I think I should travel with that'.
Do you have in your mind's eye exactly where your picture is situated in the Harbour?
Oh well it's round about the same point as that (the Streeton), slightly towards the Heads.
Your painting is such a generous gift. Why did you do it?
When in love you have no defences!
I think if you live in Sydney the harbour stains your sensibility. There's something very special about it. It's the air, and somehow the feeling of belonging to Sydney which is quite different to being a visitor.
Elizabeth Fortescue, March 20, 2015
Will Coles, one of Sydney's most dedicated art mavericks, is leaving town to live in Spain. All I can say is, "bugger".
Coles is known to any of you who have ever stumbled across one of his strange and enigmatic concrete sculptures that are stuck down firmly on Sydney's streets. Squashed balaclavas and drink cans, TV remotes and mobile phones, the small invaders have appeared overnight in shady laneways and odd little parks all over the place. There used to be a squished tetra pack near Royal Prince Alfred Hospital. It was so real I actually reached down to give it a poke. Sure enough, it wasn't budging. Will Coles had been there, no doubt in the dead of night.
I was lucky to interview Coles a good half-dozen times as I wrote about his exploits and exhibitions for the Daily Telegraph. He also invited me to write a short piece for a brochure on his work.
"Will Coles began exhibiting his sculptures in the back streets of inner suburban Sydney in about 2007, in places where they were pretty much tripped over rather than deliberately sought out for viewing," I wrote. "Uninvited, raw and unapologetic, they quickly became part of the inner  western vibe."
Coles' work was taken up by Brenda May Gallery, then Art Equity gallery in Sydney, and he has now had numerous shows. He has also been exhibited in the Holy Grail of Sydney sculpture, Sculpture by the Sea. His appearance there was with a large rendition of those fish-shaped soy sauce containers you get from takeaway shops. But that was many years after he had been an unofficial entrant to Sculpture by the Sea, sneaking into the site under cover of dark to dump his concrete television sets among the invited, sanctioned entries.
Coles' very witty work, Memorial To The Unknown Armchair General, was exhibited in Hidden, the exhibition of sculpture at Rookwood cemetery. The work is a comfy lounge chair and poof, with a general's cap on the seat of the chair. All in concrete, I assume. So, as you see, Coles by now is part of the Sydney art scene and has a large and enthusiastic following.
A couple of weeks ago, I met up with Coles and his wife Tiffany Payne-Coles in an Enmore cafe to talk about their plans for Spain. Coles said it felt weird to be leaving when he's had such a good year. Not only did he marry Tiffany, he also started getting into regional gallery collections, such as Albury, Bathurst and Goulburn, and was shown in the prestigious McClelland sculpture award. "It was the best show I've been in, so I was happy with that," he said.
I asked if the AGNSW had bought anything of his, but no. "I have left stuff outside there," Coles said. Dropping his art works outside galleries at night has been part of his modus operandi for years.
Coles believes galleries such as Tasmania's MONA and Chippendale's White Rabbit are the future. He has spent a lot of time at White Rabbit's beautiful library, a space I only recently discovered myself.
As for Spain, Coles and Tiffany will leave at the end of March and settle in a rural property about two hours drive from Valencia. Coles inherited the property from family. "I'm taking a lot of moulds so as soon as I get there I can start casting," Coles said.
It looks like Valencia had better start looking out for Coles' stick-down sculptures, because he aims to continue this habit in Spain.
Coles is excited  about living near Barcelona which he describes as a hub for street art. And he's thrilled to be moving to near Valencia, where amazing street art is everywhere but "no one rates it".
I was always interested in the fact that Coles' grandfather was the famous British sculptor Norman Sillman. Coles would consult his grandfather over intractable sculptural problems. I was sad to learn from Coles that Sillman passed away in 2013.
Coles plans to keep exhibiting in Sydney at Art Equity and also at M.Contemporary.
I can only wish Coles and Tiffany a very happy future in Valencia. We will miss them.
Elizabeth Fortescue, March 5, 2015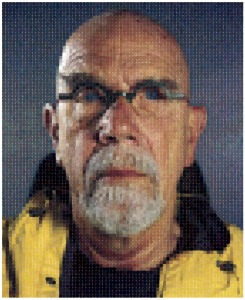 With the Chuck Close exhibition closing at the Museum of Contemporary Art Australia on March 1, I'm posting a full transcript of my interview with Close which took place on Skype. Close was in New York, and it was just before the exhibition, Chuck Close: Prints, Process and Collaboration, opened in late 2014.
First, a little background.
Chuck Close is one of America's most celebrated artists. His life and work are already the stuff of legend. Close was born in Monroe, Washington, but has lived for decades in New York City. He is, at time of writing, in his mid 70s. His practice is marked by relentless innovation, constant evolution and, paradoxically, a return to the same source material which has sustained and nourished a vast body of work across five decades.
Right from his earliest days as a young artist in New York, Close was openly ambitious. He didn't care about selling work to private buyers, he would say. He wanted to see his work in major public galleries. Before too long, he got both. Close quickly drew attention with eye-popping portraits of family and friends. These were not portraits in the traditional sense. These were a thrilling take on the centuries-old technique of the grid, used by artists to transfer an image from one surface to another. Close threw his portraits on to vast canvases, awing his audience by the size and colourful virtuosity of his work. He possessed a superhuman understanding of the eye's ability to mix myriad individual blobs and lozenges of colour into naturalistic shades that mimicked living flesh, sparkling eyes, and unruly hair. Close became, very quickly, a darling of the art world.
By 1988, Close appeared to have it all. A wonderful wife and young family, and an address on the Upper West Side of Manhattan where many of his neighbours were famous. He commanded a coveted place in the stable of artists at New York's prestigious and experimental Pace Gallery. His paintings were feted, and he was in demand.
But "the Event of 1988" – Close's description – changed everything.
One day that year, after walking through Central Park to a function, Close was admitted to hospital in horrendous pain. He was suffering a spinal artery collapse, and almost immediately it robbed him of all movement below his neck. Close was now a quadriplegic, facing many months of excruciating therapies before he could return home to an entirely new life. This is where Close's fighting spirit came to the fore. Even if he had zero movement of his limbs, he said, he would still work. Even if he had to spit paint at a canvas.
Slowly and painfully, Close regained limited use of his arms. He painted with a brush strapped to his right forearm, his left hand being used to steady the right. And so, bit by bit, Close reclaimed enough motor skills to keep working.
So, now you have a little background, here is my interview with this amazing artist:
It's miraculous that all the plates and other paraphernalia of printmaking, on view in the Sydney exhibition, survived.
Yeah, from the very beginning I loved that stuff. I kept the plates that I'd used in college and graduate school. I didn't know if anybody else would share my interest but I would keep them with the hope that some day they could be (in a show). I never clean up; I never throw anything away. When Terrie (curator Terrie Sultan) came to me with the idea of doing an exhibition, and I'd just had a painting retrospective, I said 'we're not going to be able to borrow a painting because no one will lend them again', so we had to do something else, and I said 'there's this wealth of material that I've hung onto all these years and I have a feeling people will be interested in seeing it because embedded in the detritus of various projects is information on what I what I was trying to do'. I was firmly convinced that people really want to know how art happens. They wouldn't have a clue; they don't know. When it opened in Houston I didn't have a chance to find out whether or not people spent any real time looking at that stuff. The second show was at the Met (Metropolitan Museum of Art, New York) so I kept running into people on the street who would tell me that 'I've seen the show three times'. That just doesn't happen. And then I would hang out at the show and watch people looking at the art. We purposefully did a minimum of signage. And I would watch people go down the line of progressive proofs and I could tell they were trying to figure out, 'oh, this colour went on top of that colour and that made that colour'. As a matter of fact, we got 10 letters written to Nan Rosenthal the curator of the Met, saying that (with one of the works) progressive proofs 6 and 7 were reversed. Now I had lectured in front of that series of proofs five or six times and I hadn't noticed. So if 10 people care enough to write a letter to a curator, how many more people noticed but didn't bother to write a letter. I would think a significant number of people are actually looking at it that hard, harder than I was! And it totally mimics the process. You can see colour separations that are photomechanical and it knows all the steps you've got to take to get there. It will lay them out for you. I didn't know which colours I was going to have to do. I knew the first 3 colours…. Then I looked at it and thought, 'Oh God, it's going to need some more orange, more green, more blue'. I didn't know it was going to be 16, 14 colours.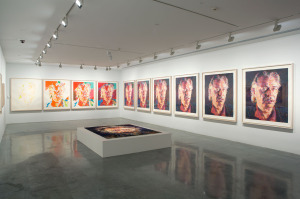 Were you systematic in keeping the artefacts?
Well, I was as systematic as a slob can be. I put them in a portfolio, labelled it, you know. I thought at the very least they had souvenir status and that they'd sort of be interesting on that level.
Are you precious with these objects now when you're using them?
While I'm working they're laying on the floor, they're pinned on the wall. I don't always keep all of the woodblocks because there's so many of them. I just keep a representative sample of them. So we pick, like for Emma woodblock, I think we picked about eight. If we put them all up, it would have taken a huge wall.
With the time chart for the spit bite print, I wondered whether you were talking about the amount of time the plate is being immersed?
You're absolutely right. It's the time they're going to be in acid. Once I had a self portrait watercolour, anyway it was the first one ….. black and white and greys, …. So I punched holes with the hole punch …. I would then put it on top of the watercolour …. If I could see the dot, it was a little lighter or darker. If it disappeared it was the same. So I digitised by hand, not photo mechanically, all those greys, and I had a list of numbers. I mixed buckets of paint that matched the grey scale. I ended up with 24. 24 buckets from white to black.
Terrie Sultan says you don't enjoy lithography. Why?
Well, you're just drawing on a stone with a greasy crayon. But it's not going to print the way it looks on the stone. Let me explain: lithography is chemistry, it's not real. It's as elusive as chemistry. Are you a cook? I've noticed that cooks are either chefs or they're bakers. Baking is like lithography; it's chemistry. If you screw up, a little too much something or other, you can't fix it. But if you're making a stew (you can add this and that to adjust the flavours). That's what you can do with stew as you slowly move towards what you want. You can't do that with baking a cake. It has to be exactly right because it's a chemical reaction. When you make an etching, you can get your fingernail into the groove. With a block, you can tell how rough something is. But with a lithography stone there's a tendency for it to be slightly greasier. And I'd be proofing and I'd like the way it was. Then when they want to edition it you'd have to counter-etch it and activate the block again ….. It's a nightmare. …. It's not real to me. There's no rough-cut surface I can see. I'll tell you a wonderful story about Aldo (Crommelynck), the French printer. So we get through the whole thing and we proof it for the first time and I say 'it's not dark enough, I want you to change the ink, increase the pressure and we'll heat the plate up to release the ink in the plate'. …. Americans, we're used to doing that. He said, 'if you wanted it to be darker you should have made it darker. I only use one ink, one amount of pressure, and I never heat a plate'. …. I said 'that's all well and good but the thing is not dark enough'. So when he wasn't there we changed it, but it's typical of a particular kind of professional printmaker. They can really drive you nuts. I wanted to make a better proof and I'm willing to do anything to get that to happen. I didn't want to waste that plate; I just wanted to get more out of it. When I was Gabor Peterli's assistant at Yale, I only made monograms. I was only interested in the first one. I would do anything to get that print to look right. But then I went to work for (I couldn't catch what he said here), and I was supposed to make 50 prints that looked exactly alike and I had no patience and I was a slob, so I got fired the first day. And he said, that's alright kid, you make your own prints one at a time, but it's not going to work for me. The traditional printer wouldn't have any idea working on one of my monoprints how I had done it.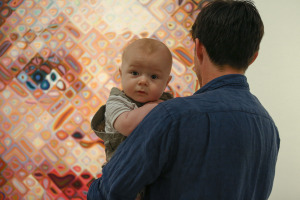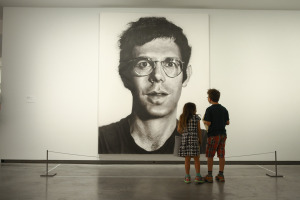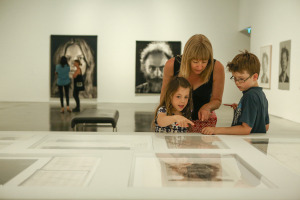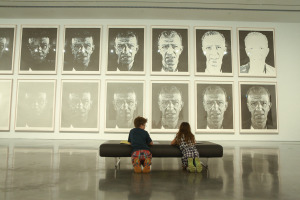 Because you massaged it to be the way you wanted?
Like paint; like paint does. Bob is in the show, and also Keith. The MoMA gave me a show about the making of that one print (Keith.) It's the first print I made as a mature artist. Then it went on the wall and everybody liked looking at it. So I said, 'people really want to look at this stuff'. Now (museums) find themselves doing it because they've found Matisses and Picassos and other people's progressive proofs. They'll sometimes put them up and show them. At the time, they weren't interested. The plate (for Keith) had oxidised and every fingerprint and everything. Like a dark chocolate patina. So I told the art handlers 'help me take it off the wall, I'm going to go clean it'. They said 'you can't touch that'. I said 'why not? It's mine'. They said, 'well the union requires that anything moved in the museum is moved by an employee of the museum'. So I watched when they went to lunch, and the next day a friend of mine took the plate down off the wall, we went to another floor into the men's room, took it into one of the stalls, and I cleaned the plate with Brasso, cleaned the whole plate, then I sprayed it with fixative and we took it back and put it on the wall. They said, 'what happened to this?' (I said), 'I don't know'.  (He hasn't seen the plate since MoMA.) I'm so disappointed (that I couldn't travel to Sydney) for many reasons, chief among them was seeing the plate and the proofs again. I always think of a retrospective as being a – what happens when a family gets together for a special occasion? A reunion? I think of it as a reunion and all of my children come together who I've made individually and I see them together. So I haven't had a reunion with them.
(Close said he had never visited Australia).
I couldn't risk my health. You know why I was taking a nap? In the morning I get up, have breakfast, work for a little bit, lie down 11 till 1, or get pressure sores, bed from 3 to 5, dinner between 5 and 7, back to bed from 7 to 11, get up, go back to bed and sleep all night. So all those hours I have to not be on my rear end, which is a colossal waste of time.
Elizabeth Fortescue, February 10, 2015
(My thanks to the MCA for the images used in this post.)
As the tens of thousands of people who enjoyed it already know, the recent Lucy Culliton survey show at Mosman Art Gallery was quite wonderful, and a great tribute to an artist whose contribution is  already substantial but who will go on to do so much more.
In September (2014), I was lucky enough to sit with Lucy's dad Tony Culliton at a wonderful lunch to celebrate the exhibition, titled The Eye Of The Beholder: The Art Of Lucy Culliton. After lunch, Lucy took to the stage with compere Simon Marnie and artists Euan Macleod and Peter O'Doherty in a conversation that shed light on Lucy and her work.
Here are some observations from the notes I made that day:
Lucy's menagerie: People are always interested in Lucy's love of animals, and the number of creatures she has gathered around her. Lucy said she currently has 42 sheep, two pet cows, a pet pig, four dogs, a fowl and a magpie. She recently looked after a wombat while taking it to an animal rescue person.
Lucy's new studio: "I have just purpose-built a big studio [on her farm, Bibbenluke Lodge, at Bibbenluke, NSW]. I was struggling in an existing shed.
But it wasn't big enough so I have just built a really big, fantastic studio."
School: "I was hopeless at school. I dropped out at the end of Year 10. I took a while to mature." Lucy worked in graphic design until the age of 27 when she enrolled in the National Art School in Sydney. One day, the veteran art dealer Rex Irwin addressed the students at NAS, telling them that for every 100 of them, only one would achieve. "I felt I was chosen!", Lucy said. At this point, Euan Macleod chimed in: "We were told it was one every two years."
Dyslexia: "I'm quite dyslexic. Working as a designer did not suit me. I didn't know what to do. I just wanted to be a painter but I wasn't strong enough to start. I needed an in. I needed a peer group. I kept horses at the Showground also, so I wasn't a drinker." Lucy made a bit of money while she was at art school by riding other people's horses at the old Showgrounds, now Centennial Parklands Equestrian Centre. "I love horses," she said.
When did you realise you were an artist? The artists had a question about when they realised they were an artist. This brought out a lovely bit of light banter.
"I'm hoping next year," said Euan, who is a very prominent Australian artist.
"I think it was about 4.30 on a Tuesday, " said Peter, ever the clown.
Lucy's answer was illuminating.
"I haven't painted now for two months and I feel like I am not a painter." Various life issues had kept her from the studio. Lucy has also told me in the past that, once she has finished painting for an exhibition, she normally goes into a semi-dormant stage as far as her work is concerned.
Euan added: "What Lucy says is true. You get pulled away from your work. Sometimes you feel you aren't getting enough time to think about what you're doing and you get back to the studio being a sanctuary and the studio being a special place."
Routine: "I love routine," Lucy said. After feeding all her animals, she's in the studio by 9am. "After lunch, I decide whether to go back to the studio or do some gardening or mow the lawn or something like that."
Peter said he and his artist wife Susan O'Doherty tend to work until dark in their shared studio at their home in Coogee. They then put out the work on the coffee table, watch TV and have dinner and keep going.
Relaxation: It sounded like all three artists are incredibly hard workers. Euan said he's not very good at relaxation, and Lucy said all her trips are painting trips. "I don't go on holidays," she said.
On finding her property in rural Bibbenluke, which is a former trout fishing lodge: "I just found 'Lucy-land'," Lucy said. "I found the place that suited me. It just happens to be six hours south of Sydney. All the outdoors things suit me. The house is a bit run-down, so it's comfortable for my animals. I also found Sydney is far too social. It takes a lot to get me away [from Bibbenluke]."
Art prizes: There was a funny moment when we learned Lucy's work, which is hugely popular and widely collected, was recently rejected from the Bega Art Show!
Euan said he missed Lucy at NAS, where he taught, by a couple of years. "Everyone was talking about this student who was there a couple of years before."
Finding home: Lucy said she would still be at Bibbenluke Lodge "until I'm 80".
"I've just arrived at where I'm comfortable," she said. "It's a place that feeds me full of ideas and (where) I can make my work. And it's a beautiful garden. It's the best place in the world."
On advice for emerging artists: "Don't take any advice. Just do what you want to do," Lucy said.
Elizabeth Fortescue, December 15, 2015